| | |
| --- | --- |
| Posted on November 23, 2019 at 1:55 PM | |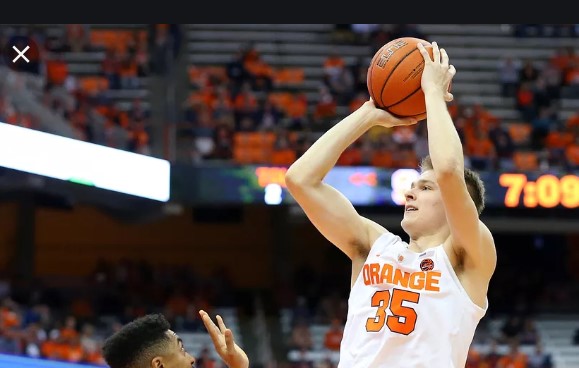 Article by Dan Tortora
  It is a tall task to ask a team with five newcomers, and a lot of questions as to who will lead the offensive and defensive charge, to have to open their season against one of the best defensive teams in the country, not-to-mention the defending national champions.
  After a 48-34 loss to the reigning national champion Virginia Cavaliers, the Syracuse Orange won three straight, with victories over the Colgate Raiders (70-54), Seattle Redhawks (89-67), and Cornell Big Red (72-53), as the team learns how to grow together.
  In this their fifth match-up of the season, the Orange elevated themselves above the Bison of Bucknell 51-26 by halftime. Syracuse did this by shooting 58.1% from the field (18-for-31), including 47.1% from three-point range (8-for-17).
  Redshirt-junior forward Elijah Hughes led Syracuse as the lone scorer in double-figures by the half, with 16 points that he attained in 13 minutes time.
  Junior forward/center Bourama Sidibe opened up the second half with three offensive rebounds, all off of his misses, and a finish at the rim on Syracuse's first possession.
  The Orange would follow with a close-range make by true freshman guard Joe Girard, III, a make in the lane by junior forward Marek Dolezaj, and back-to-back threes by sophomore guard Buddy Boeheim.
  That connection by Girard on the team's second possession of the second half put him in double-figures with 10 points, his second career game in double-figures, with the other coming against Seattle, where he had 24 points, also at home in the Dome.
  Dolezaj would follow with two made free throws, meaning that the Orange started the second half 4-for-4 and then 100% at the line, placing them ahead 65-29 overall.
  Boeheim would connect on back-to-back threes once again, giving Syracuse a run where they went 7-for-7 from the field, including 4-for-4 from long range, with all of those three-pointers coming from Boeheim.
  His 100% performance within the first six minutes of the second half gave Boeheim 22 points, a new single-game career-high. His only other 20-point outing came in the 2019 Atlantic Coast Conferencce (ACC) Tournament versus the Pittsburgh Panthers at the latter part of his true freshman season.
  With just shy of 11 minutes to play, a trio of Syracuse players were in double-figures, with Hughes following Boeheim with 21, and Girard with 12. Syracuse had made 69% of their second-half attempts at this point in the contest (10:52 mark), going 11-for-16.
  Boeheim would get a break with 13:26 to play, and junior guard Howard Washington, Jr., would enter the game, hitting a three of his own on his first attempt of the game. This was Washington's second made field goal of the season, the first coming inside the arc against Colgate, as he returns to play after a stroke he endured during last season.
  Head Coach Jim Boeheim put 10 scholarship players on the floor in this game, and nine came away with points: Boeheim with 22, Hughes with 21, Girard with 12, true freshman center Jesse Edwards with 10, Sidibe with nine, true freshman forward Quincy Guerrier with eight, true freshman guard Brycen Goodine with six, Dolezaj with six, and Washington with three. Sophomore forward Robert Braswell attempted two shots, one from inside and the other from outside the arc, but did not amount any points.
  For this 51-point victory, 97-46, the scholarship players went 56.5% from the field, including 50% from three-point range.
  In comparison, the Orange shot 50.9% from the field versus the Raiders (41.2% from deep), 59.6% versus the Redhawks (39.1% from deep), and 47.2% versus the Big Red (37% from deep) in their other wins so far this season.

Categories: Syracuse Orange Men's Basketball, Atlantic Coast Conference, NCAA