| | |
| --- | --- |
| Posted on April 17, 2018 at 11:15 AM | |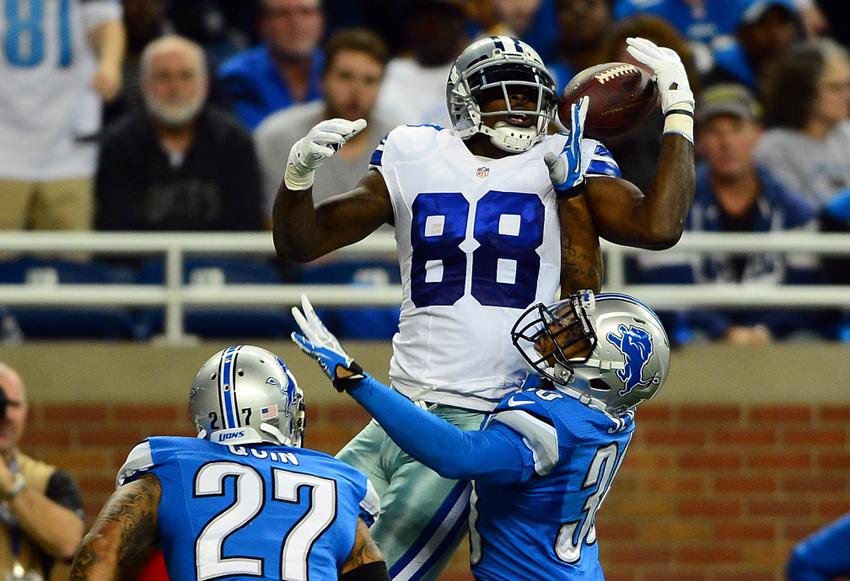 Article by Dan Tortora
  After we all picked our collective jaw off of the floor following the Dallas Cowboys' decision to release wide receiver Dez Bryant effective immediately with no trade or gaining of anything, we had to start thinking of where would be the best landing spot.
  Unfortunately for Dez, the Cowboys decided to wait until the 11th hour to release him, with teams in the process or having already signed receivers.
  Add in teams shifting their focus to the NFL Draft and the imperfect storm for a receiver looking for an opportunity to be the top dog rolled onto Dez's doorstep.
  With that being said, there is about 1/3 of the 31 teams not named the Cowboys that could be a good fit for Bryant.
  The Detroit Lions, Los Angeles Rams, Arizona Cardinals, New York Jets, Baltimore Ravens, Cleveland Browns, Houston Texans, Oakland Raiders, San Francisco 49ers, and Jacksonville Jaguars all make sense as a potential new home for Dez.
  Detroit has not had a true #1 receiver since Calvin Johnson decided to retire from the NFL, a decision many felt was very premature. They have a packed room of runners to help balance the offense and open the game up, with the addition of running back LeGarrette Blount offering a strong option they did not have in recent years, not to mention a runner coming off of back-to-back Super Bowl championships, with two different teams (New England Patriots followed by Philadelphia Eagles).
  Los Angeles could use some assistance with their receiving core. Sammy Watkins showed some positive flashes but has moved on to the Kansas City Chiefs. Cooper Kupp was up and down last season and Robert Woods offered some aid in the open field, but dealt with injury. So, depth is a need for the Rams. However, the signing of Brandin Cooks, who spent last season with the Patriots, could put a snag in the team going hard for Bryant.
  Arizona needs help. Larry Fitzgerald is a force that many struggle to contain and he is seemingly timeless, but there will come a day where he hangs up the cleats. Outside of Fitz, the Cardinals has struggled to find dominant, consistent receivers that are not on and off the injury report in a calendar season. Food for thought, though, is that Arizona may need Dez more than Dez wants to be there, with a new quarterback and new head coach saddling up for the first time together in the 2018-19 season.
  New York...the Jets that is...are in need of assistance all over the field and all throughout the offense, so if Dez wants to make money, this could be a landing spot, but if he wants to win, and now, the Jets do not look like the organization to help bring that want into reality. The team has Teddy Bridgewater as their best bet at quarterback right now after spending the majority of the past two seasons off the field due to injury, along with Josh McCown who has done more with less, but is not the guy that the Jets are putting all of their marbles on. New York may be banking on a rookie quarterback and that will be a roll of the dice for the Jets and for Dez if he was to go there.
  Baltimore has been suffering from injuries and depth issues in the receiving core for the past few seasons. They went and got Michael Crabtree who had been with the Raiders and John Brown who has spent all of his four NFL seasons with the Cardinals to aid them in having new blood, hopeful health, and more than one option for quarterback Joe Flacco. With that being said, the Ravens have proven recently that some depth is good, but more depth is better, with them having to reach further and further down the depth chart due to injuries. Having Dez Bryant, Michael Crabtree, and John Brown has the makings of a potential powerhouse receiving core and would provide quality depth if injuries arise. The only issue is that Flacco tends to be close to even in touchdown-to-interception output, so the quarterback situation is not the best fit of the 10 teams given in this analysis.
  Cleveland has been making moves and keeping their draft picks. They have been bringing in talent without giving up the opportunity to draft potential future stars. Dare I say that the Browns may be at their smartest since their return in 1999? With Josh Gordon back from a long, seemingly neverending suspension and Jarvis Landry coming over from the Miami Dolphins, there are two potential #1s already on the roster. Young receiver Corey Coleman has had the injury bug, but he has given some signs of hope for Cleveland. This receiving core with Bryant would be potentially one of the best in the league, at least on paper. The question is, "Who is throwing them the ball?" If the Browns draft a quarterback, then newly-signed Tyrod Taylor may not be the guy. Albeit the Browns, who are coming off of an 0-16 season, the moves they are making are providing an attractive opportunity for veterans and rookies to at least consider.
  Houston has quarterback Deshaun Watson, who before injury ended his rookie year last season, appeared to be bringing some excitement to a team that has had a two- or three-headed quarterback as of late that never panned out. Dez lining up opposite DeAndre Hopkins would make the Texans' offense more dynamic and he could still remind the Cowboys what they are missing by staying in the state of Texas and excelling with a team of a different blue.
  Oakland somehow got Jon Gruden to leave the broadcast booth and come back down to the sideline. The opportunity to be a part of Gruden's return could be something special, because Gruden seemingly would not come back just to coach a mediocre franchise that he does not see improving. Derek Carr has been a capable quarterback that could get better, but in all honesty, he has not had the rushing attack or proper scheming of the backs to help take pressure off of him. New leadership can help change that and if Carr gets some of the weight off of his shoulders, watch out, because he has the makings of being a highlight reel. Jory Nelson has come over from the Green Bay Packers and with the Kansas City Chiefs moving to a new quarterback, the Denver Broncos trying to figure themselves out, and the Los Angeles Chargers always seeming to be pretty good but not good enough, the AFC West is ripe for the taking, and that could help Dez return to the postseason.
  San Francisco is making moves. They are not doing the definition of insanity, doing the same thing over and over expecting a different result. The Niners have Kyle Shanahan as head coach who used to oversee the prolific offense of the Atlanta Falcons. He has a receiving core with no true #1. Dez could come in and arguably become their top guy over Pierre Garcon and Marquise Goodwin. Their NFC West division is also ripe for the taking and the Niners have not been shy about spending money to improve their squad. The question that remains is if Jimmy Garappolo is all the hype and more or if he is like other backups of stars who look good for a few games.
  Jacksonville was just a few points away from their first Super Bowl appearance ever. Since then, they have kept the majority of their hungry, forceful, and nasty defense together. They have kept their quarterback in Blake Bortles, have a bruising rusher in Leonard Fournette, and improved their offensive line with the addition of guard Andrew Norwell who was with the Carolina Panthers. The only big change is that they parted ways with the top two receivers on their depth chart, Allen Robinson and Allen Hurns. There is room on the Jaguars for a man hungry for a run and coming to Jacksonville looks to be the best bet for Dez to get a taste of something he has never had before, a seat at the Super Bowl table.
Categories: NFL