| | |
| --- | --- |
| Posted on October 13, 2017 at 2:50 PM | |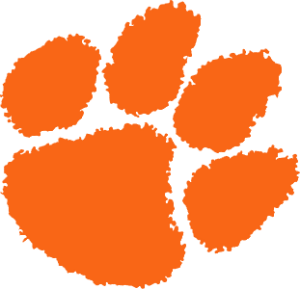 Article by Dan Tortora
  The Syracuse Orange are hosting the Clemson Tigers at the Carrier Dome for the third time in five years since joining the Atlantic Coast Conference (ACC).
  Syracuse has never defeated Clemson while a member of the ACC, as divisional foes inside the Atlantic Division.
  The Tigers own a 4-1 record all-time against the Orange, winning in all four contests as ACC adversaries.
  Syracuse's lone victory over Clemson came back on January 1, 1996, in the Gator Bowl, where Syracuse shut out Clemson en route to a 41-0 romp.
  In their last four meetings combined, all in the ACC as aforementioned, the Orange have been out-scored 156 points to 47 points.
  This fifth meeting marks Dino Babers' second crack at the Tigers since becoming the Orange head coach. In his first contest coaching against Dabo Swinney, Clemson won in "Death Valley" 54-0.
  Here is what you need to know about the defending national champions as Syracuse gets set to have them in Upstate New York:
  Passing Game:
  Deshaun Watson guided the Tigers to a shutout versus the Orange last season, but he is currently trying to navigate the Houston Texans through the rough waters of the National Football League (NFL), as he has since moved on to the professional realm.
  Kelly Bryant is the starting quarterback for Clemson this time around, and he is coming off of a left ankle injury that occurred during last week's game against the Wake Forest Demon Deacons. He came off the field in the third quarter versus the Deacons, already having guided the Tigers to a 21-0 advantage. Without Bryant, the team would score seven points and allow 14, ultimately winning 28-14 over Wake Forest.
  Bryant has completed 107 of his 159 pass attempts (67.3%) for 1,259 yards through six games of action, throwing four touchdowns to four interceptions. He has attempted less than 30 passes in all but one of the team's six games to start the season. Bryant has not passed for more than one touchdown in a game over the first six games.
  He has provided a dual-threat signal-caller option for the Tigers, rushing for at least one touchdown in four of six games, and has ran into the end zone twice in three of those four games.
  Bryant, however, has not scored a rushing touchdown in either of the team's last two games, although he leads the entire Clemson roster in carries (97), rushing yards (401), and rushing touchdowns (7) through six games.
  Freshmen quarterbacks Hunter Johnson and Zerrick Cooper (coming off redshirt) have each seen time this season. Johnson has thrown 12 passes and Cooper has had 14 pass attempts. Both have a passing touchdown apiece and no interceptions.
  Rushing Attack:
  True freshman Travis Etienne, sophomore Tavien Feaster, and redshirt-juniors Adam Choice and C.J. Fuller have all scored in the backfield for Clemson through the first six games this season. Etienne leads the way with five rushing touchdowns, followed by Choice with four, Fuller with three, and Feaster with two. Each of these four running backs has a touchdown run of at least 26 yards or better this season: Fuller from 26 yards away, Choice from 39 yards out, Feaster from 47, and Etienne from 81.
  Feaster is behind only quarterback Bryant in carries on the team, with 59. Etienne has been given the rock 46 times, while Choice and Fuller have both had 28 attempts apiece through the first half of the season. 
  All four running backs are averaging over four yards per carry: Fuller with 4.4, Choice with 4.9, Feaster with 5.6, and Etienne with 8.2.
  By the numbers, any option in the backfield for Clemson is a dangerous one. Cut off one head and multiple ones take its place, essentially.
  Receiving Core:
  Compared to Syracuse senior wide receiver Steve Ishmael, the Tigers' receivers have been quiet in the yardage department, but many have been overall throughout the country in comparison to Ishmael. The Syracuse veteran wideout has 729 receiving yards through the first six games of this season, averaging 121.5 receiving yards per game.
  Clemson's top receivers this season in yardage through six games are all under 300 total receiving yards halfway through the season: junior Ray-Ray McCloud has 291 receiving yards through six games, redshirt-junior Hunter Renfrow has 282, and junior Deon Cain has 244. McCloud is averaging 48.5 receiving yards per game, Renfrow 47 yards per game, and Cain just under 41 yards per game.
  McCloud has scored one touchdown off a catch, Cain has two receiving touchdowns, and Renfrow has none through the first six games.
  Sophomore wide receiver Cornell Powell has a reception touchdown and running back Feaster has the other receiving touchdown for Clemson.
  The Tigers' focus has been on the run so far through six games, with 21 touchdowns coming on rush attempts to six receiving.
  Junior tight end Garrett Williams will not be aiding the receiving core on the field, as he will be out with a knee injury for this contest with the Orange.
  Defense:
  Clemson has allowed seven points or less in three of their first six games this season: three points to the Kent State Golden Flashes in Week 1, six points to the Auburn Tigers in Week 2, and seven points to the Boston College Eagles in Week 4. All of these stout defensive performances came at home in South Carolina.
  The games where the Tigers have allowed the most points have each come on the road this season, with Clemson giving up 21 points at Louisville and 17 at Virginia Tech.
  Clemson had no sacks and five tackles for a loss against Kent State, followed by 11 sacks and 14 tackles for a loss versus Auburn, five sacks and seven tackles for a loss against Louisville, one sack and six tackles for a loss versus Boston College, two sacks and eight tackles for a loss against Virginia Tech, and three sacks and eight tackles for a loss versus Wake Forest.
  Therefore, the Tigers have taken down the opposing quarterback in five of their first six games, and have ended three of their first six games with at least three sacks.
  However, the onslaught of sacks and total tackles for a loss versus Auburn has not occurred again in any of the four games that followed for the Tigers, but the five sacks and seven total tackles for a loss against Louisville at least gave a hint that the tremendous pressure against Auburn was not a one-time happening for the Tigers' defense this season.
  Clemson's total defense ranks eighth in the nation through six games with yards allowed per game to their opponents, currently giving up 264.3 yards per game, on average.
  The Tigers have only allowed eight touchdowns to be scored against them this season through six contests, an average of 1.3 touchdowns given up per game.
  Clemson is also allowing a mere 4.09 yards per play against their defense this season.
  Special Teams:
  With redshirt-junior Greg Huegel out for the season due to an ACL injury, fellow redshirt-junior Alex Spence has taken on the duties of placekicker for the Tigers, making 13 of his 14 extra-point attempts and one of his three field-goal tries. Spence connected on a field goal between 20-29 yards out, but has missed both of his attempts from 40 or more yards away this season.
  Redshirt-freshman Will Spiers is averaging a little over 45 yards per punt attempt this season. He has been utilized four or more times in five of the team's six games leading up to this point. 
  Etienne, Powell, Fuller, and true freshman wide receiver Tee Higgins have all shared time on kick returns through the first six games, with none of them making substantial gains.
  McCloud has been the team's trusted punt-returner this season, and he had his two best performances this season versus Boston College (two returns for 54 total yards) and Wake Forest in the team's most recent match-up (four returns for 58 total yards). 
  Worth Noting:
  Clemson has fumbled five times in six games, losing possession three times on those occasions.
  There have been three games this season where Clemson's defense ended without a single interception.
  The Tigers have five interceptions in six games total this season.
  Redshirt-senior linebacker Dorian O'Daniel has the team's only interception returns for touchdowns this season, gained against Louisville on the road, from 44 yards out and then from 22 yards out on the road versus Virginia Tech.
Categories: Syracuse Orange Football, Atlantic Coast Conference, College Football