| | |
| --- | --- |
| Posted on June 3, 2017 at 9:00 PM | |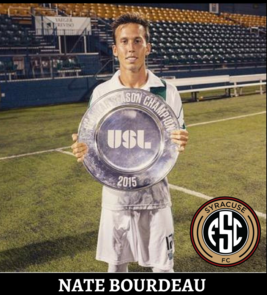 Article by Dan Tortora
  In the 42' of a hard-fought match between Syracuse FC at home versus the Dayton Dynamo, midfielder Nate Bourdeau (#4) gave Syracuse the separation they needed en route to the team's first win in their young history.
  Bourdeau took a pass from fellow midfielder Adnan Bakalovic (#22) and aimed toward the right corner of the goal past keeper Paulo Pinto (#1) in the first half.
  This game avenged Syracuse's loss a match ago to the Dynamo on the road in Dayton, Ohio. Both games ended 1-0, each time in favor of the home squad.
  Syracuse entered the match in last place of seven inside the East Conference Division, but came out on top of the second-highest team in the East, Dayton.
  This victory comes after Syracuse fell twice before at home, first to reigning champion AFC Cleveland, 5-1, and second to the Rochester Lancers, 2-0, and once on the road in the aforementioned game against Dayton.
  Bourdeau's goal was the first scored by Syracuse FC in regular flow of play and the second overall in the team's four games played, the only other goal by the team coming from defender Slavisa Ubiparipovic (#99) on a penalty kick in the first half of play versus AFC Cleveland.
  Syracuse will look to capitalize on the momentum of their first-ever win in team history on Friday, June 9, on the road against the Rochester Lancers at 7:30pm and following on Sunday, June 11, against FC Buffalo at 2pm.
  The team will return home on Wednesday, June 14, versus FC Buffalo at 7:30pm.
Categories: syracuse fc, npsl, soccer