| | |
| --- | --- |
| Posted on September 9, 2016 at 4:05 PM | |
  Article by Dan Tortora
  Heading into their Week 2 match-ups, these Atlantic Coast Conference (ACC) coaches inside the Coastal Division answered my questions below: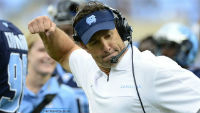 North Carolina Tar Heels' Head Coach Larry Fedora:
Q: What are your Week 1 takeaways from quarterback Mitch Trubisky. I know you said he's been very patient for this opportunity that he got this year and just what you are taking away from his Week 1 performance.
A: "I think in game 1 he learned a lot. I think he realized that coming off the bench in relief is a little bit different from being a starter. I think he'll be a better player this week than he was last week."
Q:  Then, as far as the multidimensional weapon of TJ Logan, what you can say about his ability in the run game and in the return game, as well, moving forward.
A:  "Well, TJ has always had the ability to make big plays for us any time he's on the field. It was fun to see those kind of things pay off for him because he's a hard-working kid. He's in his senior year. He's put a lot into it, and he wants to make plays for this football team. I'm happy to see that. He's a lot of fun to coach."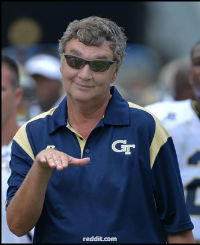 Georgia Tech Yellow Jackets' Head Coach Paul Johnson:
Q: Freshman running back Dedrick Mills, just what you can say about him going from a fumble to a game-winning touchdown, just what you took away from his play in Week 1 from beginning to end.
A:  "Well, Dedrick is a guy who's had a really good camp and has a chance to be a really good player. He's got a lot of ability. He's got good football awareness. So I think he has a bright future. I think he'll learn from -- the more he plays, the better he's going to get. He's probably not going to play this week, but I think he does have a bright future."
Q: Then, as far as the overall experience of playing in Ireland, just what you took away from the fans that were there and the experience that you had there.
A:  "I think it was a good trip. I think it was a fun trip for our guys, an education. We got to do some things, and I think we had about 70 guys that had never been out of the country, so it was a big deal for them."
  "You know, I would recommend it. I think it was a fun trip."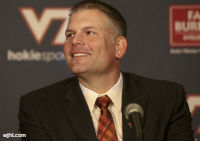 Virginia Tech Hokies' Head Coach Justin Fuente:
Q: Assessing Jerod Evans' play at quarterback for you after week one, what your big takeaways were from that?
A:  "Some good, some bad. Made a couple nice rows into tight coverage. Handled just the operation -- no matter what level you're playing at, just operating and handling the play calls and the communication, I think he did a good job of that for his first time out. There's plenty of things for us to work off of. It was very far from a perfect game, and many teaching points to take away from that first game, the first one being valuing the football. It's something that -- there's a couple plays in there where we did not do a good job of that, and that's going to have to change if we're going to have a chance to be as good as we'd like to be."
Q. Then as far as your description of the environment in Blacksburg, VA, around your football team and how the fans welcomed you., This Game 1 has been a long time coming for you, and just what you took away from the environment around you there in Blacksburg?
A:  "Yeah, well, first of all, on a personal level, everybody has been fantastic between my wife and kids and our family welcoming us with open arms. Everything that we'd ever heard about Blacksburg, Virginia, has been true, and those expectations have been exceeded. As far as the game-day atmosphere, Virginia Tech fans have been very proud of their game-day atmosphere, and after getting to spend one Saturday with them, I would agree with that. It's kind of what college football's all about. You've got pageantry and passionate fans. It was just a lot of fun to be a part of. I'm hopeful that I get to be a part of many more."
Pittsburgh Panthers' Head Coach Pat Narduzzi:
Q: Your thoughts and feelings seeing James Conner back at work in an actual game and just what you took away from that?
A:  "You know what? It's unbelievable. You could really call it a miracle. Some people aren't as fortunate as James is to have the strength and attitude that he had to be able to come back. To be honest with you, the emotions of a game are the emotions of a game and those were all expected. You expect to see him go out there because you saw him go out in spring and take a carry."
  "I expected him to run through the tunnel like he did. He was the first one out, which as I'm trailing him trying to keep up and I had no chance at all to keep up with him. He burst out of there through the smoke and that's what he did when he got on the field."
  "Like I said, it's a miracle that he's out there. He's beaten the odds. Quite honestly, I didn't gush during the game, but watching the ESPN highlight afterwards put a tear in your eyes."
Q: As far as the dynamic between James Conner and Qadree Ollison, how you see them going forward together in the backfield?
A:  "We've got to keep both guys fresh. There was a point in the second half where I was like, hey, we need to give James a break. He's only human. He's not superman, even though he probably could tell you he's superman. But I thought Qadree coming in and carrying a few times and really Darrin Hull got in and got a few carries as well. It's a different tempo. They all have different running styles, like I think every tailback does. I saw juice when they got into the game."
  "So I was excited to see those guys run. I think we've got a three-headed monster back there, and at times it could be a four- and five-headed monster, based on what we're doing and how we're doing it."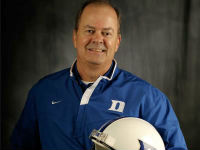 Duke Blue Devils' Head Coach David Cutcliffe:
Q: On assessing Daniel Jones in his first week at quarterback for Duke?
A: "He's a physically gifted young man. I thought he threw the ball really well. He ran the ball well. He ran our team well. He was -- we didn't ask him to do a lot. He was very-well prepared by Zac Roper, our quarterback coach, offensive coordinator. And I think it's going to continue in that mode. I think he'll play well, but he's going to have some growing pains. Red-shirt freshman always do."
  "But very pleased with his work ethic and his attention to detail is really, really good. And if he will continue that, he's got a chance of being a really good player."
Q: Backup quarterback Parker Boehme got some time out there as well. Do you envision finding places for Parker as you go forward as well?
A:  "Yeah, we've always kind of had packages for guys in situation football. And Parker really does fit that mode. He's done some of that anyway for us in the past. So he's a good player."
  "We have a starter and we've got a back-up. It's not like we're still trying to figure that out. But I can promise you Parker is a guy that I trust in the game, and particularly in somewhat would be critical situations."
Categories: Atlantic Coast Conference, NCAA