| | |
| --- | --- |
| Posted on March 31, 2015 at 12:25 AM | |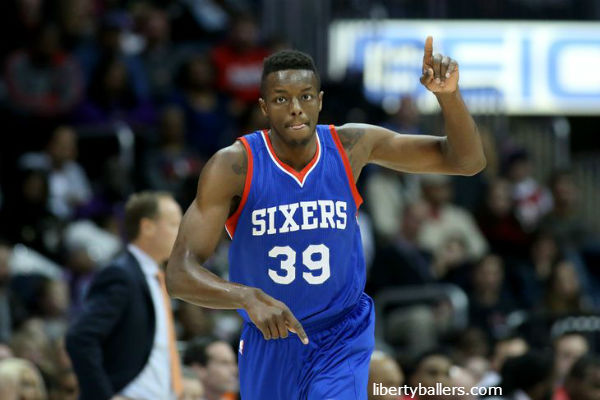 Article by Dan Tortora
  As the Final Four rolls into the spotlight, a former member of the Syracuse Orange men's basketball team that achieved a place in the 2013 Final Four offered his view on various topics in our conversation.
  On hand in support of his older brother, Jerian, Jerami attended the Notre Dame Fighting Irish's match-up with the Kentucky Wildcats, a game where Jerian missed his last-second try and the Irish fell by two points, 68-66.
  "He wasn't doing too good," said Jerami Grant on his brother Jerian after the loss to the Wildcats. "I just told him to look forward to everything that's coming."
  Jerami believes his brother, Jerian, will find his place in the National Basketball Association (NBA), telling me he is "pretty pretty sure he'll get drafted". 
  Speaking of the NBA Draft, Jerami decided to forgo his final two seasons of eligibility at Syracuse University in order to try for a spot in the NBA. Looking back, Grant does not have any regrets on his decision to leave early from college for the NBA.
  He does admit that it was "tough going through it, not getting drafted when I wanted to."
  Shifting the focus back back to his brother, Jerian, Jerami stated, "Hopefully it turns out better than the draft did for me."
  "I did wish I got drafted a little bit higher," Jerami offered.
  But Grant followed in saying, "Everything happens for a reason," believing that getting drafted by the Philadelphia Sixers has brought him "lots of opportunity".
  "Virtually the perfect situation for someone like me," Grant went on to say about being with the Sixers, as this team provides for him the opportunity to learn, as he expressed.
  Another player with the potential to join Grant in the NBA is his former Syracuse teammate, Rakeem Christmas.
  "We've been texting throughout the whole season," said Grant.
  In response to any worry that Christmas would not get selected in the 2015 NBA Draft, Grant shared, "Rock (Rakeem Christmas) is still extremely athletic," saying this in response to how sometimes it does not aid an athlete when they decide to stay in school, but he believes Christmas will be fine.
  Speaking on another former Syracuse teammate, Michael Carter-Williams, Grant stated, "It definitely shocked me, it shocked all of us," when former college turned professional teammate Carter-Williams was sent to the Milwaukee Bucks before the NBA trade deadline on Thursday, February 19, 2015.
  "Nobody understood why it happened," Grant went on to say about the Sixers' decision to part ways with Carter-Williams. "We still can't explain why."
  Grant also lost K.J. McDaniels, a player drafted in 2014 with him from the Clemson Tigers, who was one of the people he became closest to on the Sixers; McDaniels was traded to the Houston Rockets for point guard Isaiah Canaan before the 2015 trade deadline as well.
  On Canaan, Grant shared that they have not built a close relationship as of yet, but that he has good relationships with everyone on the team, including Nerlens Noel, who was also drafted in 2014 with Grant. Noel and Grant had never played together before both being drafted by the Sixers, but "had each other's numbers", according to Grant, and "played in AAU games against each other".
  "We definitely have a good relationship," Grant offered, speaking of where he stands now with Noel. 
  Grant also expressed that JaKarr Sampson is one of his Sixers' teammates that he is closest with, sharing that he has formed a bond with everyone that came in with him to the Sixers as a rookie, Sampson being one of them, joining Philadelphia in 2014 as well, after playing for the St. John's Red Storm.
  Forming relationships is key in any walk of life, in any business, and Grant believes that the Sixers' front office likes him, and that is a good thing, especially when, as Grant knows, things in professional sports can change at any time.
  Grant's rookie contract with the Sixers is for four years, including the current 2014-15 season. He stated that the first two years (2014-15 and 2015-16 seasons) are guaranteed and the last two (2016-17 and 2017-18 seasons) are team-option years. Grant said that he believes the Sixers have to let him know what they are doing with his third year (2016-17) before the start of next season (2015-16).
  Spotlighting his first season as a professional basketball player, Grant expressed, "It's definitely tough to lose a lot of games just coming from a ton of winning teams." Grant began his NBA career by enduring a 17-game losing streak with the Sixers.
  In reference to "coming from a ton of winning teams", one of those teams being the Syracuse Orange who won 58 of 74 contests during Grant's time there from 2012-14, Grant spoke on Syracuse University's current woes after an NCAA investigation concluded with massive punishments on the Orange men's basketball program. 
  "I've seen all of it," said Grant of the news surrounding Syracuse and the NCAA.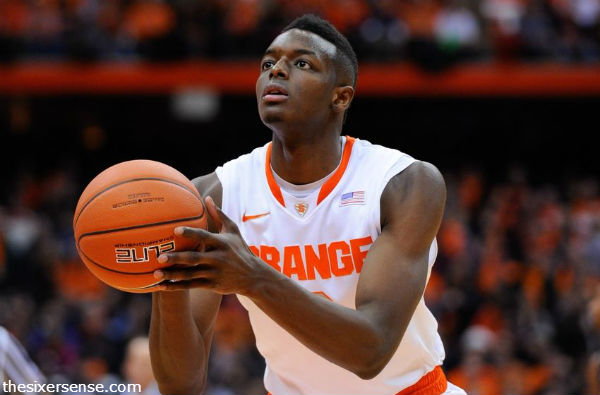 "Not really phasing me," Grant added, because "like a lot of people on the team, we wasn't a part of it".
Categories: Syracuse Orange Men's Basketball, Atlantic Coast Conference, NBA