| | |
| --- | --- |
| Posted on October 28, 2013 at 11:20 AM | |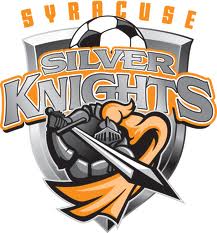 (Info provided by the Syracuse Silver Knights' organization)

SYRACUSE, N.Y. –The Syracuse Silver Knights of the Major Indoor Soccer League (MISL) haveannounced the return of six players to the 2013-2014 roster. The team bringsback forwards Slavisa Ubiparipovic, Antonio Manfut,  midfielders Kenardo Forbes, Nate Bourdeau,Cory Elenio, and defender Marcos Chantel.
Silver Knights Forward, Slavisa Ubiparipovic, Bosnian-born player:
Ubiparipovic took the MISL by storm upon joining the SilverKnights, earning MISL Rookie of the Year while leading the team in points with61. During that 2011-2012 season, Ubiparipovic scored 19, 2-point goals and had14 assists. Ubiparipovic maintained this great form and completed last year's 2012-2013season ranked in the top 20 for most goals with 13, 2-point and two 3-pointgoals combining for 50 points.
"I'm expecting big things from Slavisa this year," SilverKnights coach, Tommy Tanner, said. "I think he knows the game very well and canbe one of the top players in this league."
Ubiparipovic is himself looking forward to vastimprovements, both collectively and personally, setting high standards for theSilver Knights' season to come.
"The team is a lot better compared to our first two yearsand so of course our expectations have been rising," Ubiparipovic said. "Thisyear we simply have to make the playoffs … I am ready to do whatever it takesto help the team achieve its goals … I expect the majority of the guys will comeback with the same mentality."
Ubiparipovic had also played for the ClevelandInternationals PDL team and was on short trial with the New York Red Bullsafter the 2010 MLS SuperDraft. Before signing with the Silver Knights,Ubiparipovic also played for the PASL-Pro Ohio Vortex where he received Playerof the Week in December of 2010.
Silver Knights Midfielder, Kenardo Forbes, Jamaican player:
Forbes has played professionally in Jamaica and was captainof the Jamaican team, Waterhouse FC. Forbes scored nine points in 13 games inhis first season for the Silver Knights, completing three assists.
Forbes enjoyed a much more fruitful season last year. Theforward scored nine 2-point goals and completed nine assists, combining for 27points in 25 games.
"Kenardo, towards the end of last season, really came on,"Tanner said. "He does a terrific job of keeping possession and we're going tolook forward to him scoring more points this season."
Silver Knights Forward/Midfielder, Antonio Manfut, Cleveland-born player:
Manfut graduated from Lebron James' St. Vincent-St. MaryHigh School in Akron, OH. Despite his age, Manfut has plenty of soccerexperience. In 2012, he was captain of the Cleveland White Caps and led them tothe Ohio State Championship. Shortly after, Manfut trained with Liga MX giants,C.F. Pachuca.
"This is a great opportunity for Antonio to show everyoneall his abilities," Tanner said. "He is a special player, we look forward tohim having a great year this coming season."
Manfut scored his first and only goal of the season lastyear, on his debut for the Silver Knights.
"My goal for the season is to help our team reach its firstever playoff series ever in franchise history," Manfut said. "If you don't aimfor the stars, you will never reach them."
Silver Knights Midfielder, Cory Elenio:
Cory Elenio, one of the Silver Knights top points earnerwith 16 goals and 12 assists during the inaugural 2011-2012 season returns tothe squad. Elenio played for the Carolina Railhawks before joining the Silver.He then moved on to the Wilmington Hammerheads. He today returns to the SilverKnights for the coming season. Elenio played his college soccer at theUniversity of Evansville.
"I am really excited to be back playing for Tommy and withthe teammates I played with two years ago … I am excited to be back in Syracuseplaying for a great fan base," Elenio said. "I am really looking forward tohelping the team out in any way possible, whether that is by scoring, assistingor defending."
Silver Knights Defender, Marcos Chantel, Brazilian player:
Chantel has played for Brazilian powerhouse Flamengo. Hethen spent a season in the Netherlands, playing for Eredivisie team, LVVKyepers. In the United States, Chantel played for the Northern Virginia Royals.He also played professionally for the Stockton Cougars and the Baltimore Blastbefore joining the Silver Knights. In his debut season for the Silver Knights,Chantel scored eight points and had two assists. Last year scored one 3-pointgoal.
"I expect Marcos to be steady, to give leadership at theback, and keeps us together as a group," Tanner said. "He's great in the lockerroom, and the experience he brings along with his strength and size are allthings that we will need."
Silver Knights Midfielder/Forward, Nate Bourdeau, Baldwinsville-born player:
Bourdeau played at Rutgers University, earning All-Big Easthonors in his Senior year. He was a highly talented player at CW Baker HighSchool earning CNY Player of the Year in 2007. He also played for Ocean City inthe PDL before joining the Silver Knights. Last season, Bourdeau scored four2-point goals and made three assists, combining for 11 points.
Bourdeau has high hopes, and looks to the strength andsolidarity of the group to help through for the coming season.
"We have a good core [of players] returning and we will haveanother year of experience under our belts," Bourdeau said. "Personally, I wantto build off of my rookie year and be a big impact player in the league."
Coach Tanner corroborated himself that there is much more tocome from Bourdeau, and expects improvement.
"He learned the game last year, and defensively I thought hewas very good for a first-year player," Tanner said. "He has the ability to goforward as well and hopefully his point total will go up this year."
Categories: Syracuse Silver Knights