| | |
| --- | --- |
| Posted on October 19, 2013 at 9:30 AM | |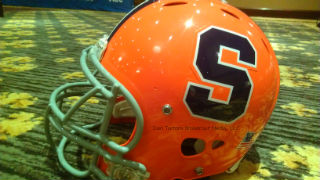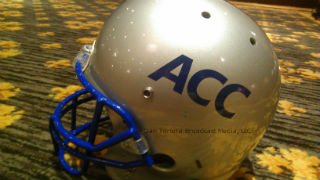 By Dan Tortora
  Through two games, one at home and one on the road, the Syracuse Orange are at .500, 1-1 after a home loss to the Clemson Tigers and a road victory over the N.C. State Wolfpack.
  In those two games, quarterback Terrel Hunt has completed 18 of his 44 pass attempts with no touchdowns through the air. Before playing in the Atlantic Coast Conference (ACC), Hunt was 31 of 39 versus the Wagner Seahawks and Tulane Green Wave combined with seven passing touchdowns. Keep with the juxtaposition of Hunt against non-conference opponents versus conference foes, Hunt did not throw an interception before facing the ACC. In two games against Syracuse's new conference opponents, Hunt has thrown five interceptions in two games.
  On the ground, Hunt has averaged a little over six yards per carry before and during conference play, with 6.7 yards per carry before facing the ACC and 6.2 yards per carry since. Despite not scoring through the air, Hunt reached "glory territory" on the ground versus N.C. State, with a score using his feet.
  Keeping with the ground, the Orange have amounted 685 rushing yards in two games inside the ACC, with over 300 rushing yards versus both the Tigers and the Wolfpack, 323 against Clemson and 362 against N.C. State. Syracuse accomplished this with 40 or more attempts in each of these two games, giving them averages of 6.7 yards per carry and a little over 9.0 yards per carry, respectively.
  In two contests against the ACC, the Orange have gained more yards (685) than in their first four non-conference games combined (639).

  Along with yards, the Syracuse ground game has run into their ACC opponents' end zones five times, twice versus the Tigers and three times versus the Wolfpack.

  Returning 1,000-yard rusher Jerome Smith has surpassed 100 yards in both aforementioned matches with ACC foes, 125 vs. Clemson and 140 vs. N.C. State. He has achieved this on 18 and 19 carries, respectively, averaging 6.9 and 7.4 yards per carry. Smith has also scored on the ground in each of the two contests versus the ACC.
  Fellow running back Prince-Tyson Gulley has matched Smith with two scores against the ACC, one in each of the two games as well. With nine carries against both Clemson and N.C. State, Gulley rose his output more than 80 yards from Syracuse's first to second competition in the ACC, with 44 yards versus the Tigers and 132 versus N.C. State, going from 4.9 to 14.7 yards per carry.
  As a team through the first half of the season, the Orange have surpassed 1,000 rushing yards this season at 1,324 with attempts from Smith, Gulley, Hunt, running back Devante McFarlane, running back George Morris II, quarterback Drew Allen, fullback Adonis Ameen-Moore, running back Greg Tobias, H-Back Brisly Estime, H-Back Ashton Broyld, and wide receiver Adrian Flemming, in order of yards gained.
  Smith leads all with 482, followed by Gulley with 316. With McFarlane and Morris now involved in the backfield, they have both attained and surpassed 100 yards on the ground, McFarlane with 156 and Morris with 114, giving Syracuse four rushers with over 100 yards. The four backs have combined for over 1,000 of the team's 1,324 rushing yards. All four running backs have averaged over four yards per carry, with McFarlane leading all at a little over eight yards per carry.
  In the end zone, Smith tops all Syracuse backs with eight rushing touchdowns, followed by Gulley with four, and McFarlane with one.
  Hunt, though struggling passing in the ACC, has had success on the ground, being the dual-threat that has helped the Orange move the ball downfield, attaining 240 yards on 6.7 yards per carry and reaching "glory territory" three times.

Categories: Syracuse Orange Football