| | |
| --- | --- |
| Posted on August 10, 2020 at 1:05 PM | |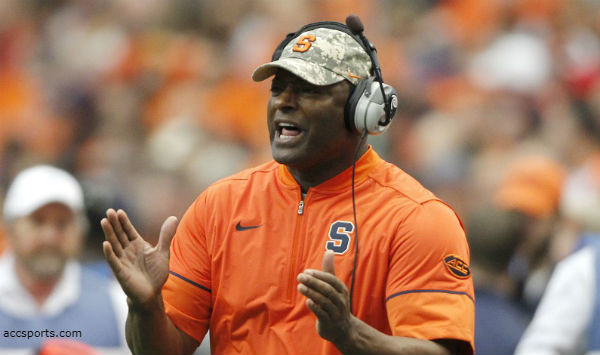 Article by Dan Tortora
  Syracuse Orange head football coach Dino Babers met with us in the media safely and socially-distanced on a video call today, August 10th.
  The timing of this call threw Babers into the eye of the storm that is sports and coronavirus right now.
  All coaches, players, athletic directors, presidents, and chancellors share the same seat currently as we all try to navigate COVID-19 and its threat to our well-being as well as to the things we love, like a Saturday on the gridiron.
  When I had the opportunity to speak with Babers about what he thought about the rumors that some conferences, like the Big Ten and PAC-12, might cancel their season, he shared that Syracuse Orange football is "status quo right now."
  Speaking on the Atlantic Coast Conference (ACC), where Syracuse University calls home for all sports, Babers offered, "Our conference is saying it's a go. Until they tell us it's not a go, we're gonna get ready to play some football."
  "And I don't think the attitude should be any different from my pay grade down. We're gonna be ready to go. If they say, 'Go', we go. If they say, 'No', we don't".
  In regards to my question on how he is keeping the team focused amidst all of the talk of whether or not there will be a college football season here in 2020, Babers responded, "I'll tell you right now, practices have been amazing," Babers expressed. "The kids that have been out at practice have been... the effort, based off of all the stuff that's gone on, I almost feel like it's been a release that they can actually lose themselves and do something that they really enjoy with a bunch of guys that are all COVID-free and running around and having fun."
  "The practices that we've been able to do have been some of the best practices we've had in a long time here."
  Addressing the media, Babers would go on to say, "We don't get to tell the ACC what we want them to do," stating that when a final decision is made on the season, it will be above his pay grade.
  Babers shared that he addressed concerns that members of his football team had before he had them go out onto the practice field. "We need to make sure you guys have peace in your minds long before we go on the practice field."
  "We're gonna listen to our players," Babers made clear. "They have an important voice and their voices need to be heard."
  As far as if Babers had seen the comments made by Clemson University Tigers' quarterback Trevor Lawrence on Lawrence's desire to have a 2020 season, Babers replied, "I did read Trevor Lawrence's statement... I'm not ready to share an opinion on it," with Babers' reasoning being that he does not believe coaches should talk about other coaches' players.
  Lawrence, a quarterback in the same conference (ACC) and division within the conference (Atlantic) as Syracuse had posted onto his Twitter account, @Trevorlawrencee, on Sunday, August 9th, "People are at just as much, if not more risk, if we don't play. Players will all be sent home to their own communities where social distancing is highly unlikely and medical care and expenses will be placed on the families if they were to contract covid19."
  He continued with, "Not to mention the players coming from situations that are not good for them / their future and having to go back to that. Football is a safe haven for so many people. We are more likely to get the virus in everyday life than playing football. Having a season also incentivizes players being safe and taking all of the right precautions to try to avoid contracting covid because the season/ teammates safety is on the line. Without the season, as we've seen already, people will not social distance or wear masks and take the proper precautions."
  Babers echoed those sentiments when he said on our media call, "Right now, it's safer to be an athlete at Syracuse University than to walk around the state of New York."
  Onondaga County, the county where Syracuse University is located, is reporting less than 1% of COVID-19 tests are coming back positive, a trend that has been going on for weeks in New York State and in this county.
  "If you're gonna do a Final Four... I believe we'd be in the Final Four and competing for a championship," Babers exclaimed when speaking on the numbers that Syracuse University has recorded from their COVID-19 testing.
  Babers stated that because Syracuse University is a private institution he cannot disclose publicly those testing numbers, but he does believe they would hold up with anyone right now in the country, including the University of Michigan Wolverines' football team.
  Michigan head football coach Jim Harbaugh released his numbers, sharing that the team "had 11 positive tests out of 893 administered, including three upon initial return to campus."
  Harbaugh went on to state, "We have had two positive tests out of the last 417 administered" and "We have had zero positive tests out of the last 353 administered," when speaking on Michigan.
  During our media call, though he was mum on the numbers at Syracuse, Babers said that after hearing Michigan's numbers, "We're still in the Final Four. We know we're in. Hopefully Michigan's in, too, but we know we're in," when it comes to Syracuse's COVID-19 testing.
  "I think we really need to play... if we can do it safely," Babers remarked.
  Now the heads of the conferences around the country have to decide if they can do exactly that.
  And the hopes of coaches, student-athletes, and fans are all hanging in the balance.
  I have never wanted to hear a whistle to start a game so bad, until now.
Categories: Syracuse Orange Football, Atlantic Coast Conference, NCAA