| | |
| --- | --- |
| Posted on February 11, 2020 at 9:20 PM | |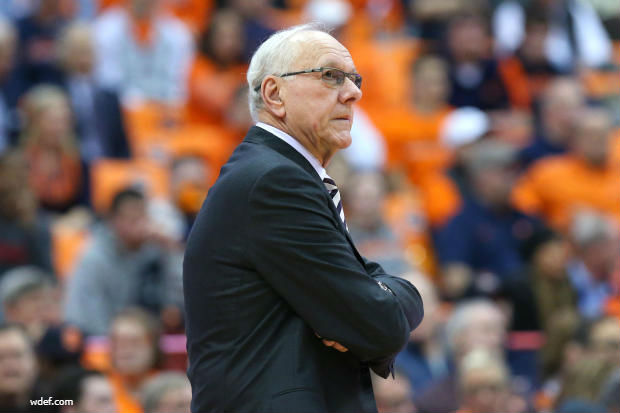 Article by Dan Tortora
  The Syracuse Orange and N.C. State Wolfpack met inside the Carrier Dome almost dead even in overall record as well as record inside the Atlantic Coast Conference (ACC), with less than 10 games to play in the regular season.
  Syracuse came onto their home court after snapping a two-game losing streak by defeating the Wake Forest Demon Deacons at home a game ago, 75-73.
  N.C. State also entered this match-up after ending a losing streak of their own, theirs a three-game skid, when they took down the Miami Hurricanes on the road, 83-72, in their last contest.
  The Orange were 14-9 overall and 7-5 in the ACC when they stepped onto the court in Central New York, the Wolfpack 15-8 and 6-6 in the conference.
  Syracuse got on the board first with a three from sophomore guard Buddy Boeheim on the team's opening possession.
  The Orange would go ahead by as many as four points, 6-2, before losing the lead at the 14:09 mark when the Wolfpack got a layup from senior guard Markell Johnson that made it 8-7 Wolfpack.
  An 8-0 run overall would get N.C. State out to a 12-7 advantage with 13:26 remaining in the first half.
  Redshirt-senior guard C.J. Bryce's deep connection would move the Wolfpack out to a nine-point lead, 20-11, at the 9:22 mark.
  Syracuse would respond by scoring on four-straight possessions to get within two of N.C. State, 23-21, with 7:41 before halftime. The field goals would come, in order, from junior forward Marek Dolezaj inside, true freshman forward Quincy Guerrier on a putback off of his offensive rebound, true freshman guard Joe Girard, III's, old-fashioned three-point play, and a tradition three-ball from Girard.
  Girard would make his third-consecutive field goal for the Orange when he knocked down the tying jumper that made it 23-all at the 6:40 mark.
  Dolezaj would steal the ball away from sophomore forward Jericole Hellems just 14 seconds later and lead a fast-break that would end with his assist to junior Bourama Sidibe who finished underneath to give Syracuse their first lead since it was 7-6, at 25-23 with 6:18 left on the first-half clock.
  Syracuse got to their 25-23 lead by going on a 14-3 run, turning the tide from down nine (20-11) to up two.
  N.C. State would get back ahead of Syracuse at the 3:59 mark when Bryce made his third deep shot of the first half, moving to a one-point lead, 29-28.
  Dolezaj went to work from there, scoring five-straight points for the Orange, making two free throws followed by attacking inside, taking the contact, and connecting on an out-stretched lay-in plus the free throw that ensued, moving the Orange from down 29-28 to up 33-29.
  Hellems replied to Dolezaj with a 5-0 run of his own, connecting on a jumper and an immediate three to follow to put N.C. State back up by one, this time 34-33.
  The Wolfpack would enter the first half on a 10-2 run to give themselves a four-point lead on the road against the Orange as both teams went to talk things over in their respective locker rooms.
  Bryce went into the break as the lone member of the Wolfpack in double-figures, with 12 points, while Girard led all Orange and all players in general with 14 first-half points.
  N.C. State would score first in the second half when redshirt-junior forward D.J. Funderburk made both of his free throws, but the first field goal of the second half would come from Guerrier in the paint after Sidibe made up for his turnover by stealing the ball back for Syracuse.
  The Orange would go on a 7-0 run to cut their deficit to four, 46-42, and Guerrier and Girard would follow with back-to-back buckets to tie the game at 46 apiece at the 16:21 mark of the second half. 
  Sidibe would come out of the game at the 16:03 mark after picking up his fourth foul, with true freshman center Jesse Edwards having to step in.
  And step in he did. Edwards took a feed from Guerrier and finished with a lay-in to give Syracuse their first lead of the second half, 58-56, with 10:37 to play in the contest. Boeheim's connection from long distance tied the game at 56 a possession before, and gave Boeheim double-digits on the night, as he reached 10 points.
  Combining with Guerrier and Girard, Boeheim was a piece of the trio that accounted for 46 of Syracuse's 60 points when they took a 60-56 advantage, with Girard amounting 20, Guerrier 16, and Boeheim with 10.
  A tough make inside for Dolezaj would move him into double-figures as well, with 11 at the 8:29 mark of the second half, rolling the Orange out to a 64-59 lead.
  However, the Wolfpack would claw their way back to the lead when redshirt-junior guard Devon Daniels made a layup at the 4:25 mark, getting N.C. State ahead 69-68. Daniels went on a 7-0 himself to bring the Wolfpack from a 68-62 deficit to this 69-68 lead.
  Markell Johnson and C.J. Bryce would provide back-to-back makes from beyond the arc for the Wolfpack, moving them out to a 77-70 advantage with 2:35 to play.
  With 1:37 remaining, Girard would go 2-for-2 at the line to give him his first 30-point game of his young collegiate career, and it would bring Syracuse within four, down 78-74.
  This 30-point performance by Girard came a mere 24 games into his true freshman season.
  This was the fourth game where Girard had at least 20 points: 20 versus the Oakland Golden Grizzlies, 20 versus the Notre Dame Fighting Irish, and 24 versus the Seattle Redhawks, all at home as well.
  But it was not enough as Syracuse fell to visiting N.C. State 79-74, a five-point loss in a game where Orange leading-scorer, redshirt-junior Elijah Hughes (19.4 points per game), went out with a lower-body injury after a mere three minutes on the court in the first half.
  With the loss, Syracuse now has double-digit losses on the season at 14-10, and they move to 7-6 in the ACC.
  N.C. State moves up to 16-8 overall and above .500 in the ACC at 7-6 as well, now with a head-to-head tiebreaker over Syracuse if need be.
  Girard, as he did in the first half, led all scorers in the game as a whole, with 30. Guerrier also elevated to a new single-game career-high with 16 points for the fellow true freshman. Dolezaj ended the night with 13 and Boeheim with 10.
  Daniels led the Wolfpack with 23 points, followed by Bryce with 19 and Hellems with 10.
Categories: Syracuse Orange Men's Basketball, Atlantic Coast Conference, NCAA