| | |
| --- | --- |
| Posted on January 22, 2020 at 11:05 AM | |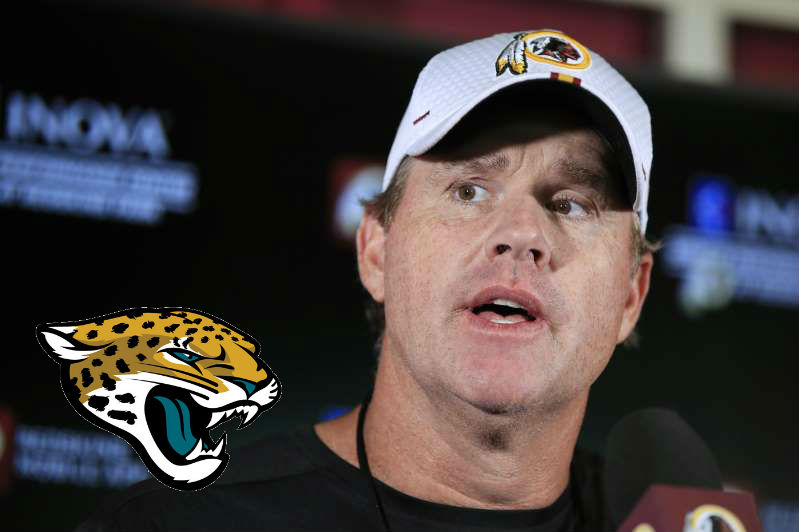 Article by Dan Tortora
  The Jacksonville Jaguars have officially hired Jay Gruden as their new offensive coordinator, taking over the reins of the offense as we move toward the 2020-21 National Football League (NFL) season.
  Most recently, Gruden, the brother of Oakland Raiders' head coach Jon Gruden, served as the head coach of the Washington Redskins from 2014 through his in-season firing during the 2019-20 campaign.
  He will be the third offensive coordinator under Doug Marrone in Marrone's time as head coach of the Jaguars, succeeding John DeFilippo and Nathaniel Hackett who was Marrone's first OC in Jacksonville.
  Just two seasons ago, in 2017-18, the Jaguars were in their third AFC Championship Game as a franchise, one step out of the Super Bowl.
  But the team faltered in 2018-19, leading to the firing of Hackett and shortly after the conclusion of the 2019-20 season, DeFilippo found his name wiped from the coaching roster in Jacksonville.
  Gruden has spent half of his life connected to the sidelines or the booth, with 26 years under his belt at 52 years of age.
  He served as a student assistant for the Louisville Cardinals' football program in 1989 and a graduate assistant for the program from 1990-91.
  Gruden would then move to the Arena Football League (AFL), where he was the offensive coordinator of the Nashville Kats in 1997 and the head coach of the Orlando Predators from 1998 to 2001. 
  From 2002-08, Gruden had more than one title at a time, working as an offensive assistant for the NFL's Tampa Bay Buccaneers from 2002-08, while playing quarterback for the Orlando Predators from 2002-03 and coaching the tackles and tight ends on the Predators' squad from 2004-08.
  The United Football League (UFL) would come into existence in the later portion of the first decade of the 21st century, and Gruden would hold post as offensive coordinator in 2009 and head coach in 2010 of the UFL's Florida Tuskers.
  Cincinnati would hire Gruden in 2011 as their offensive coordinator and he would remain with the Bengals to 2013 before becoming an NFL head coach for the first time ever in 2014 when he joined the Washington Redskins, as mentioned above.
  In the words of Marrone, "Coach Gruden is one of the brightest offensive minds in football and I'm pleased to welcome him to the Jacksonville Jaguars. In going through the search process, it was important to me and our staff to identify a candidate who had a clear and concise vision for how to lead our offense and how to get the most out of our players and assistant coaches. I believe that Coach Gruden is the right person for what we need right now and the direction that we want to take our offense. In his last stint as an offensive coordinator for three seasons in Cincinnati, he had great success with the Bengals and played a key role in their three postseason berths from 2011-13. During the interview process, it became very clear that Coach Gruden learned a lot from his experience as a head coach and he's ready to get back to work."
  The Jaguars are two seasons removed from the NFL postseason as spending a decade between playoff berths.
  After going 12-7 in the 2017-18 season, 10-6 in the regular season and 2-1 in the playoffs, Jacksonville has amounted less wins in the last two campaigns (11) than they did in 2017-18 alone (12), ending 2018-19 at 5-11 and this past season of 2019-20 at 6-10.
  Gruden inherits a quarterback situation where veteran Nick Foles is a Super Bowl champion but unproven as an every-week starter, alongside Gardner Minshew, a sixth-round pick in the 2019 NFL Draft, coming off of his rookie season where he threw for 3,271 yards, with 21 touchdowns to six interceptions.
  His backfield features fourth-overall pick Leonard Fournette, who has rushed for over 1,000 yards in two of his three seasons in the NFL, with 1,040 in 13 games as a rookie and 1,152 in 15 games during the 2019-20 campaign. He attained 439 yards in an injury-laden season in 2018-19, where he played in only eight games.
  Jacksonville's receiving core is led by youngster D.J. Chark, Jr., who attained over 1,000 receiving yards this past season as a sophomore in the league, gaining 1,008 yards on 73 receptions. He scored his first NFL touchdown as well this past season, and would end the season with eight touchdown receptions in total.
  Gruden's work to elevate this offense begins immediately, as he returns to the Sunshine State yet again, hopefully with some magic for a team that has had blips of success, but nothing that has consistently held.
Categories: Jacksonville Jaguars, NFL