| | |
| --- | --- |
| Posted on December 8, 2019 at 10:10 AM | |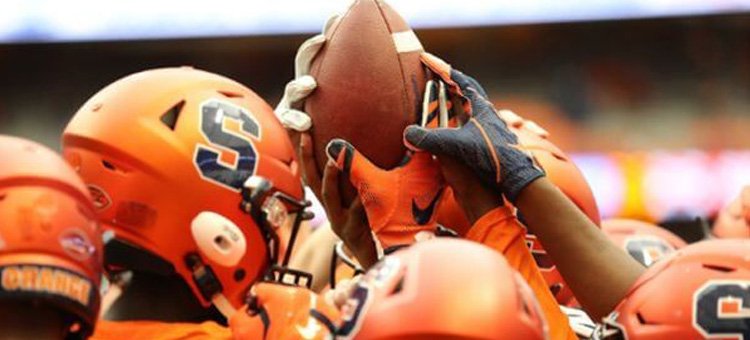 Article by Dan Tortora
  The Syracuse Orange football program has gone through what feels like a long, unending nightmare.
  Pulling at the heartstrings of fans that have worn Syracuse proud across their chest for years.
  Families that have loved the orange and blue for decades.
  For generations.
  They finally got a taste of what the past felt like, in that moment where Syracuse rose to 10-3 and defeated historic rival West Virginia for the fourth consecutive time, this time at Camping World Stadium in Orlando, Florida, for the Camping World Bowl.
  And here they are again, with a losing record and no postseason to look forward to.
  The last time the Orange had back-to-back winning seasons was 2012 to 2013. In 2012, their final season in the Big East Conference, Syracuse posted an overall record of 8-5. Following in 2013, the Orange needed a bowl win to secure an above .500 record, ending the season at 7-6. This was also the last time the Orange advanced to the postseason in consecutive seasons, and the last time they won back-to-back bowl games, gaining victories in the Pinstripe Bowl over the West Virginia Mountaineers and in the Texas Bowl against the Minnesota Golden Gophers.
  When it comes to back-to-back double-digit winning seasons, you have to go all the way back to 1991-92, when Syracuse finished 10-2 in both years.
  Then-head coach Paul Pasqualoni would follow those consecutive 10-win seasons with nine-straight winning seasons. This would add up to 11-consecutive winning campaigns for Pasqualoni from his first season at Syracuse (1991) through 2001, giving the Orange more than a decade of continued success.
  Since Pasqualoni's firing following back-to-back 6-6 seasons (2003 and 2004), the Orange have had four winning seasons in the last 15 tries.
  Greg Robinson, who succeeded Pasqualoni, amounted a mere 10 victories over four seasons with Syracuse, and an overall record of 10-37. To somehow make this four-year stint even worse, the NCAA took away five of those victories that he achieved in his first two seasons of 2005 and 2006, giving him five wins to 37 losses over his total time in Central New York.
  Doug Marrone, a former Syracuse offensive lineman, gave the Orange some life during his four years that followed Robinson's firing. Marrone had two 8-5 seasons, but also two losing seasons, at 4-8 and 5-7.
  His defensive coordinator, Scott Shafer, was elevated to head coach after Marrone left to become the head coach of the Buffalo Bills inside the National Football League (NFL). Shafer went 7-6 in his first season at the helm (2013), as aforementioned, but followed with 3-9 and 4-8 finishes, respectively. After those three seasons, the university let Shafer go.
  Fast-forward to now.
  Dino Babers ends his first and second seasons at 4-8 apiece, but within that time defeats two top-25 ranked teams, the Virginia Tech Hokies and Clemson Tigers. The victory over Clemson came with the Tigers ranked in the nation's top two, when they came into the 2017 season as reigning national champions after having won the College Football Playoff.
  He followed with the previously-mentioned 10-3 record, seemingly showing that Syracuse was on an upward trajectory. Two quality wins in rough seasons, with a double-digit win season in his third campaign began to create the notion that the team could potentially have some sustainable success.
  Then 2019 happened.
  A 5-7 record in a season that saw the Orange give up 63 points and lose by a 43-point margin to a Maryland Terrapins' team that ended their season 3-9 overall, and 1-8 in the Big Ten Conference.
  Syracuse also gave up 58 points to the Boston College Eagles, who finished this season 6-6 and fired their head coach, Steve Addazio.
  On top of that, the Orange lost to the N.C. State Wolfpack in an off-year for head coach Dave Doeren, a year in which the Wolfpack went 1-7 in Atlantic Coast Conference (ACC) play, and ended 4-8 overall.
  Syracuse would give Willie Taggart one of his few wins this season as well before he was fired by Florida State.
  So where do we go from here?
  The Orange will be looking for a new defensive coordinator after Babers fired Brian Ward during this season. Ward had allowed over 38 points in 2016 and more than 32 points per game to opponents in 2017, along with the 63 points given up to Maryland and 58 to Boston College this season.
  There looks to be an opening at quarterback after redshirt-sophomore quarterback Tommy DeVito was replaced by redshirt-senior Clayton Welch by the end of this season. Syracuse has David Summers and Drew Gunther returning with full eligibility having both used their redshirt year here in 2019.
  Syracuse will also be looking for leadership on both lines, with Matthew Bergeron returning after having to play as a true freshman at right tackle, along with Airon Servais coming back for his final season, following playing center and left tackle for the team. Evan Adams' eligibility ending means that the Orange will have a vacancy at guard, and with the carousel that was this season, both guard positions may be up for the taking, following a season where Syracuse was in the top-four most penalized teams in the nation and gave up the third most sacks in the country, of 130 Division I-A (FBS) college football teams. The defensive line returns nose tackle Josh Black, but loses defensive tackle Kenneth "K.J." Ruff and both Kendall Coleman and Alton Robinson at defensive end.
  The Orange will be replacing leadership in the linebacker core for the third straight season, with Andrew Armstrong and Lakiem Williams concluding their time in college. This comes after Syracuse lost Zaire Franklin, Parris Bennett, and Jonathan Thomas following the 2017 season and Kielan Whitner and Ryan Guthrie after the Camping World Bowl in 2018.
  Change, therefore, is evident with this program.
  A program that has gone through change every 3-5 years with coaches coming in and out of Central New York.
  Let us hope that this time change will be the movement back to sustained success.
  That that faith Babers asked us all for, "belief without evidence", will pay off with evidence that we are on the right path.
  A path that will lead us into the future instead of always looking back to more than 20 years ago, when success did not feel so far away.
Categories: Syracuse Orange Football, Atlantic Coast Conference, NCAA