| | |
| --- | --- |
| Posted on November 20, 2019 at 11:10 AM | |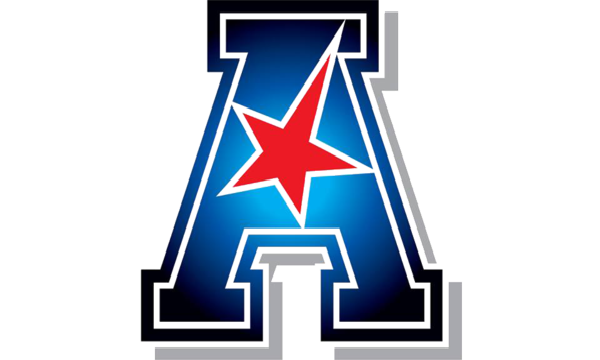 Article by Dan Tortora
  With the departure of the UConn Huskies on July 1, 2020, the American Athletic Conference (AAC) will be left with 11 schools that compete in their football conference: Cincinnati Bearcats, East Carolina Pirates, Houston Cougars, Memphis Tigers, Navy Midshipmen, SMU Mustangs, Temple Owls, Tulane Green Wave, Tulsa Golden Hurricane, UCF Knights, and USF Bulls.
  That move has placed the AAC in a situation where they would have uneven divisions in the American East and American West, which is something that AAC Commissioner Mike Aresco has made clear is not ideal, so they will instead be an 11-team conference, for now, without divisions.
  With a non-conference schedule and no divisions for 2020 and 2021, which are the two seasons that the AAC applied for and received a waver from the NCAA to be able to hold a conference championship without having 12 teams or having divisions, each school will obviously not face the other 10 teams in the conference.
  The in-conference schedule for these two upcoming seasons will be as follows:
  2020
  UCF
  Home: Cincinnati, Temple, Tulane, Tulsa
  Away: ECU, Houston, Memphis, USF
  (will not play Navy, SMU)
  Cincinnati
  Home: ECU, Houston, Memphis, USF
  Away: UCF, SMU, Temple, Tulsa
  (will not play Navy, Tulane)
  ECU
  Home: UCF, Navy, SMU, Tulane
  Away: Cincinnati, USF, Temple, Tulsa
  (will not play Houston, Memphis)
  USF
  Home: UCF, ECU, Navy, Tulsa
  Away: Cincinnati, Houston, Memphis, Temple
  (will not play SMU, Tulane)
  Temple
  Home: Cincinnati, ECU, USF, SMU
  Away: UCF, Memphis, Navy, Tulane
  (will not play Houston, Tulsa)
  Houston
  Home: UCF, USF, Tulane, Tulsa
  Away: Cincinnati, Memphis, Navy, SMU
  (will not play ECU, Temple)
  Memphis
  Home: UCF, Houston, USF, Temple
  Away: Cincinnati, Navy, SMU, Tulane
  (will not play ECU, Tulsa)
  Navy
  Home: Houston, Memphis, Temple, Tulsa
  Away: ECU, USF, SMU, Tulane
  (will not play UCF, Cincinnati)
  SMU
  Home: Cincinnati, Houston, Memphis, Navy
  Away: ECU, Temple, Tulane, Tulsa
  (will not play UCF, USF)
  Tulane
  Home: Memphis, Navy, SMU, Temple
  Away: UCF, ECU, Houston, Tulsa
  (will not play Cincinnati, USF)
  Tulsa
  Home: Cincinnati, ECU, Tulane, SMU
  Away: UCF, USF, Houston, Navy
  (will not play Memphis, Temple)
  2021
  UCF
  Home: ECU, USF, Memphis, Tulane
  Away: Cincinnati, Temple, Navy, SMU
  (will not play Houston, Tulsa)
  Cincinnati
  Home: UCF, SMU, Temple, Tulsa
  Away: ECU, Navy, USF, Tulane
  (will not play Houston, Memphis)
  ECU
  Home: Cincinnati, USF, Temple, Tulane
  Away: UCF, Houston, Memphis, Navy
  (will not play SMU, Tulsa)
  USF
  Home: Cincinnati, Houston, Temple, Tulsa
  Away: UCF, ECU, SMU, Tulane
  (will not play Memphis, Navy)
  Temple
  Home: UCF, Houston, Memphis, Navy
  Away: Cincinnati, ECU, USF, Tulsa
  (will not play SMU, Tulane)
  Houston
  Home: ECU, Memphis, Navy, SMU
  Away: USF, Temple, Tulane, Tulsa
  (will not play UCF, Cincinnati)
  Memphis
  Home: ECU, Navy, SMU, Tulane
  Away: UCF, Houston, Temple, Tulsa
  (will not play Cincinnati, USF)
  Navy
  Home: UCF, Cincinnati, ECU, SMU
  Away: Houston, Memphis, Temple, Tulsa
  (will not play USF, Tulane)
  SMU
  Home: UCF, USF, Tulane, Tulsa
  Away: Cincinnati, Houston, Memphis, Navy
  (will not play ECU, Temple)
  Tulane
  Home: Cincinnati, Houston, USF, Tulsa
  Away: UCF, ECU, Memphis, SMU
  (will not play Navy, Temple)
  Tulsa
  Home: Houston, Memphis, Navy, Temple
  Away: Cincinnati, USF, SMU, Tulane
  (will not play UCF, ECU)
Categories: American Athletic Conference, College Football, NCAA