| | |
| --- | --- |
| Posted on December 12, 2018 at 6:00 PM | |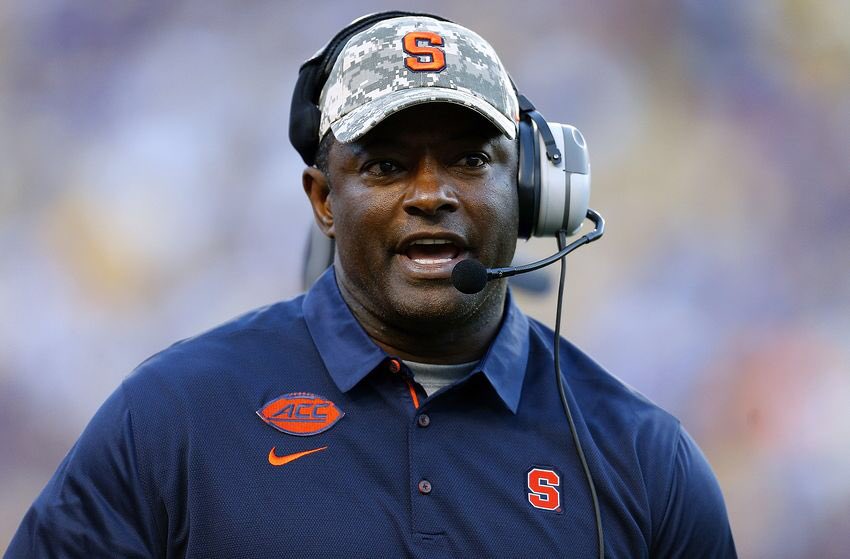 Article by Dan Tortora
  Syracuse University is offering fans an early Christmas/Holiday gift...
  Syracuse Orange head football coach Dino Babers has been signed to an extension "that keeps Coach Babers at the helm of Syracuse University Football well into the future", according to a statement released by the school.
  According to my sources close to the situation, Babers original contract when he came into the school back in 2016 was for six years, suggesting it would be up in 2022.
  This extension looks to be adding even more time to that, but the university has not disclosed the year that this extension will end on.
  "A little over three years ago, I arrived at Syracuse University inspired by the great opportunity to coach at an institution with such a rich football legacy, hungry student-athletes, good facilities, and a storied tradition of academic distinction," Baber expressed. "It was a true honor to have accepted the head coach position then and I consider it a privilege today to be able to extend my time coaching at Syracuse University. I am grateful to have the support, faith, and trust of University leaders, the Orange community, our student-athletes, and our fans. I am excited about what the future holds for Syracuse Football and look forward to our continued improvement and growth."
  Chancellor Kent Syverud offered these thoughts: "Dino's energy—both on and off the field—is palpable, and his impact on Syracuse Football, and in particular on the student-athletes he coaches, has been nothing short of extraordinary. Syracuse University is proud to have Dino leading Syracuse Football. I am confident we will continue to see great things from him, his staff, and our student-athletes."
  John Wildhack came on as Syracuse University's Director of Athletics after the hiring of Babers by former Director of Athletics Mark Coyle. Wildhack added his praises as well of Babers following the decision to extend the coach at the helm of the football program: "Dino has led an exhilarating resurgence of football tradition at Syracuse University. On the field and off the field, Dino has demonstrated his deep commitment to our football program, our student-athletes, our communities, and our fans. Not only is he an incredible leader, coach, and mentor with great integrity and heart, he is also a tremendous ambassador for Syracuse University and the broader Central New York community."
  Under Babers, Syracuse finished 4-8 in 2016 and in 2017 as well, but both seasons saw the Orange rise above a Top-25 nationally-ranked opponent, the Virginia Tech Hokies in 2016 and the reigning-National Champion Clemson Tigers in 2017.
  Most recently, Babers has aided Syracuse to a 9-3 record this season, and a second-place finish in the Atlantic Division of the Atlantic Coast Conference (ACC) behind only Clemson and a second-place overall finish among the 14 football member schools of the ACC. Syracuse was 6-2 in the ACC this season.
  With the 9-3 record in 2018, Babers has gotten the Orange to at least nine wins in one season for the first time in 17 years (2001). He has also guided Syracuse to their first simultaneous ranking in both the Associated Press and Coaches' Polls in 17 years (2001). Under Babers, the Orange are among the Top-25 in the nation in the College Football Playoff Rankings for the first time ever.
  Another feather in his cap is the fact that Syracuse began this season 4-0, which is something the team had not accomplished in 27 years (1991).
  Syracuse will also have their first bowl appearance in five years when they face off against longtime rival West Virginia in the Camping World Bowl. This game between the Orange and the Mountaineers will kick off on Friday, December 28, 2018, at 5:15pmET in Orlando, Florida.
  So, no matter what is under your tree or in your home this holiday season all wrapped up, the gift already unwrapped is the notion that the Orange should be rolling for a very long time.
  Thanks to Syracuse University for assistance with this information
Categories: Syracuse Orange Football, Atlantic Coast Conference, NCAA