| | |
| --- | --- |
| Posted on May 9, 2017 at 4:15 PM | |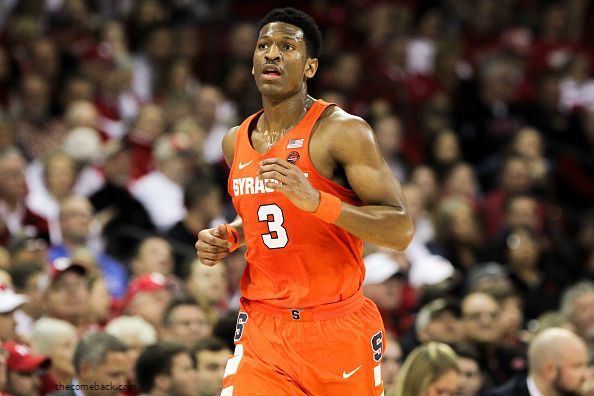 Article by Dan Tortora
  Andrew White, III, has taken more stops on the road to the National Basketball Association (NBA) than many.
  He began his collegiate basketball career with the Kansas Jayhawks for two seasons before moving onto the Nebraska Cornhuskers and finally the Syracuse Orange.
  In his graduate season with Syracuse, White surpassed former player and current assistant coach Gerry McNamara's single-season Orange record of made three-pointers (107) when he accumulated 112 made three-pointers in the 2016-17 season.
  Overall, White averaged 18.5 points and 4.6 rebounds per game, shooting 44% from the field, including his 40% effectiveness from beyond the arc, competing on average in 37 of the 40 allotted minutes each contest.
  Without White, Syracuse would logically and statistically have lost at least 15 of the 19 games they won in the 2016-17 season.
  He may have only played one season with the Orange, and that season did not end in advancing to the NCAA Tournament, but White did prove he can handle pressure and respond well at home or on the road. White was by far the most consistent scorer on Syracuse for the 2016=17 season. His focus, talent, and work ethic aided him in scoring from long range in 32 of the 34 games that Syracuse played in, attaining at least four made three-pointers in 15 different games in the 2016-2017 season.
  Coming off of his best collegiate season of the four, being most recently, White has taken his next step toward the NBA by choosing to train in Chicago, Illinois, during the same week that the NBA Combine is going on in the city.
  "Everybody who's somebody will be in Chicago this week," said White in our one-on-one conversation. The combine runs from May 9th through the 14th.
  "I'll be out in Chicago working out," White added. He will be with trainer Tyler Relph, who has been training him in Dallas, Texas. He has also worked out with Drew Hanlen in Raleigh, North Carolina for the "majority of Spring" and "spent a week with Hanlen in St. Louis" in preparation for his jump to the NBA.
  White is hopeful of what his decision to move his workouts to Chicago during the time of the NBA Combine will mean, offering, "I'll be in front of 15 or 20 [NBA] teams...should at least get 3, 4, or 5 teams that give me heavy consideration."
  Following his time in Chicago, White shared that he will have a workout with the Milwaukee Bucks on Monday, May 15th, followed by workouts with the Utah Jazz, Los Angeles Lakers, Los Angeles Clippers, and Dallas Mavericks. White previously worked out with the Jazz before playing for the Orange.
  Stay close to WakeUpCallDT.com and Live Broadcasts of "Wake Up Call with Dan Tortora" Monday through Friday 9-11am ET on mixlr.com/wakeupcalldt for more!
Categories: Syracuse Orange Men's Basketball, NCAA, NBA