| | |
| --- | --- |
| Posted on October 25, 2016 at 10:05 AM | |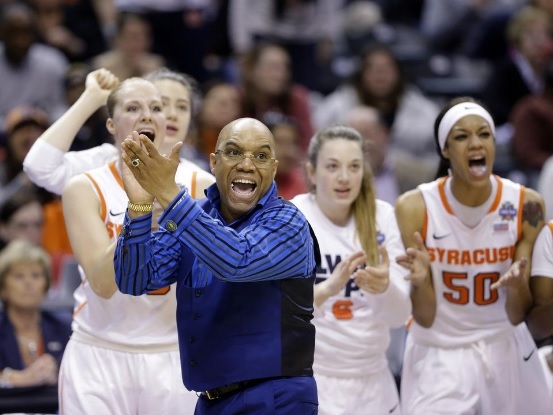 Article by Dan Tortora
  "We've always put the expectation on ourselves, so for us, it's not any different."
  Syracuse Orange women's basketball attained their first-ever Sweet 16, Elite Eight, Final Four, and National Championship berths, all happening this past season of 2015-16, and Quentin "Coach Q" Hillsman does not see heightened expectation when he has always had the belief in his plan.
  "It's about trying to continue to be aggressive."
  As far as using last season's success as a tool for this season, Coach Q, stated, "You definitely have to discuss it. You definitely have to embrace it, because obviously when you get to a championship game, that's one away. You're 40 minutes away from winning a championship, and for us, we know what we had to do. We know what we need to do moving forward to get that last W, so we're excited about moving onto the next chapter which is this season."
  "It's about being in the best condition possible. I thought we were in great shape last year," Coach Q added.
  In looking back at the national championship game last season versus the UConn Huskies, Coach Q, offered, "It's about making a couple extra plays and make sure that you're very detail-oriented. Obviously UConn was a very good basketball team, so let's call it what it is. We played against a phenomenal team. I thought we did everything we could to win the basketball game. We just ran into a team that's just very good, and they beat us."
  UConn was a tall task for Syracuse, just as they have been to every other women's collegiate basketball team they have faced throughout the country.
  Their victory over the Orange marked their fourth consecutive championship victory.
  So the question is, how do you defeat UConn?
  "It's about your execution," said Coach Q. "It's about making sure that you can play the way you want to play and to impose your will on your opponents. It's not about luck. It's about how good can you be, how good can your players be, and they've (UConn) been very good in a system that works for them and I think that we get to the point where we have one that works for us."
  As a leader on and off the court, Coach Q shared how he chooses to live his life, navigating through adversity on a path to success. "It's just about your everyday attitude. I just try to have the right attitude about everything. There are certain things that you can definitely control and if you don't control that stuff, you're not gonna be successful. And that's my goal, to always be in control in any situation that I can, and that's what I try to do."
  Controlling what he and the team can control, Coach Q shifts his eyes to this season. "It's gonna be real simple. We're a very tough team, a team that plays an exciting brand of basketball and they're very good basketball players. It's gonna be a good ticket in town. We're gonna play a style that's gonna be attractive to anybody that loves the game."
  Tipoff on the new campaign for Coach Q and the 'Cuse is Friday, November 11, at 3pm ET at home inside the Carrier Dome against the Rhode Island Rams on "Military Appreciation Day / Staff Appreciation Day".
Categories: Atlantic Coast Conference, NCAA, Syracuse Orange Women's Basketball