| | |
| --- | --- |
| Posted on July 4, 2016 at 11:55 AM | |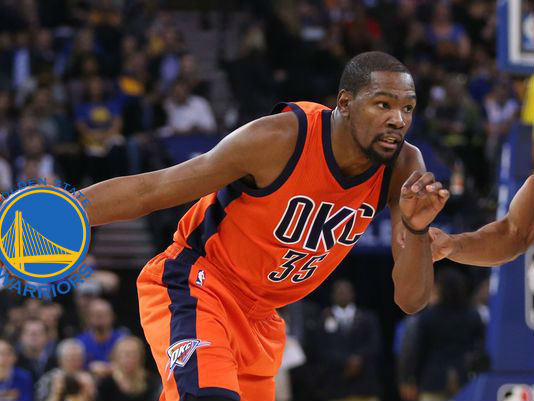 Article by Dan Tortora
  The big fish in the ocean of this NBA Free Agency climate has been small forward Kevin Durant.
  He had the option of signing a one-year contract to stay with the Oklahoma City Thunder and become a free agent again with point guard Russell Westbrook.
  Or he could have signed a long-term contract to remain with the Thunder, the team that drafted him when they were known as the Seattle SuperSonics.
  Option three, however, is the one he took: Explore a new horizon.
  That horizon is where the sun sets, in the West, with the Golden State Warriors who compete out of Oakland, California.
  As written by Durant: "The primary mandate I had for myself in making this decision was to have it based on the potential for my growth as a player — as that has always steered me in the right direction. But I am also at a point in my life where it is of equal importance to find an opportunity that encourages my evolution as a man: moving out of my comfort zone to a new city and community which offers the greatest potential for my contribution and personal growth. With this in mind, I have decided that I am going to join the Golden State Warriors."
  The move takes a Warriors' team that attained a berth in the National Basketball Association (NBA) Finals each of the last two seasons, with one championship trophy, and hoists them to an even higher talent level, something that some did not even think was a possibility.
  Durant takes his 28.2 points per game (ppg) and adds it to the most recent production of point guard Stephen Curry (30.1ppg), power forward Draymond Green (14ppg), and shooting guard Klay Thompson (22.1ppg), among others. That is 94 points per game accounted among four players not even including a fifth member on the floor.
  But Durant, being the professional I have come to view him as in how he goes about his contract dealings, did not end his public letter without honoring the team he has helped build into a contender: "It really pains me to know that I will disappoint so many people with this choice, but I believe I am doing what I feel is the right thing at this point in my life and my playing career."
  Durant continued in saying, "I will miss Oklahoma City, and the role I have had in building this remarkable team. I will forever cherish the relationships within the organization — the friends and teammates that I went to war with on the court for nine years, and all the fans and people of the community. They have always had my back unconditionally, and I cannot be more grateful for what they have meant to my family and to me."
  (Quotes from Kevin Durant are courrtesy of the letter written by Kevin Durant here: http://www.theplayerstribune.com/kevin-durant-nba-free-agency-announcement/)
Categories: NBA