| | |
| --- | --- |
| Posted on April 2, 2015 at 11:15 AM | |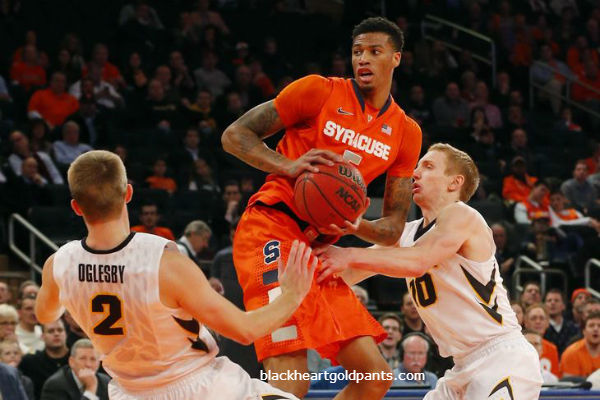 Article by Dan Tortora
  Coming from IMG Academy in Bradenton, Florida, the Syracuse Orange men's basketball program had high hopes for Chris McCullough, orginially from Bronx, New York.
  McCullough was one of two freshmen joining Syracuse for the 2014-15 season, alongside point guard Kaleb Joseph.
  A depleted Orange front court meant that McCullough's services were needed immediating, after Syracuse endured the losses of C.J. Fair, Baye Keita, and Jerami Grant following the 2013-14 season.
  McCullough played in the first 15 of 31 games for Syracuse before tearing his anterior cruciate ligament (ACL) in his right knee at home in the Carrier Dome, in what would be his 16th game as a member of the Orange, on Sunday, January 11, 2015, against the Florida State Seminoles. In the 15 games where he was healthy, McCullough averaged 9.3 points and 6.9 rebounds per game.
  But that average is deceiving.
  In those 15 games, McCullough began by scoring in double-figures for the first eight games, but followed by achieving single-digits in scoring in his last seven games. 
  Taking his point total in the seven-game stretch where McCullough failed to achieve double-figures, and dividing it by his minutes played shows that McCullough was averaging 0.18 points per minute in his last seven games with the Orange prior to his injury versus the Seminoles.
  McCullough went at least 1-for-6 or worse from the field in three games during that seven-game offensive drought (1-for-6 vs. Louisiana Tech, 1-for-6 vs. Colgate, and 1-for-7 vs. Georgia Tech).
  These numbers do not parallel the hype created around McCullough when he was coming into Syracuse University projected as a potential lottery pick in the 2015 NBA Draft.
  My sources close to the situation shared that the Orange staff were receiving calls about McCullough from NBA scouts well before McCullough even stepped foot on campus as a student-athlete.  
  But with lackluster performances on offense before tearing his ACL, even Syracuse head coach Jim Boeheim remarked in one of his postgame press conferences that he had a better chance of winning the lottery than McCullough did of being a lottery pick and he did not even buy a ticket.
  Nevertheless, 15 healhy games of collegiate basketball before the stronger portion of Syracuse's schedule and a torn ACL have not stopped McCullough from entering his name into the 2015 NBA Draft.
  My sources close to the situation stated that McCullough is in fact "going pro" after missing the last 16 games of the Orange regular season, preceded by not having scored in double-digits since a December 6, 2014, match-up with the St. John's Red Storm (13 points in 40 minutes played).
Categories: Syracuse Orange Men's Basketball, Atlantic Coast Conference, NBA