| | |
| --- | --- |
| Posted on October 1, 2014 at 12:40 AM | |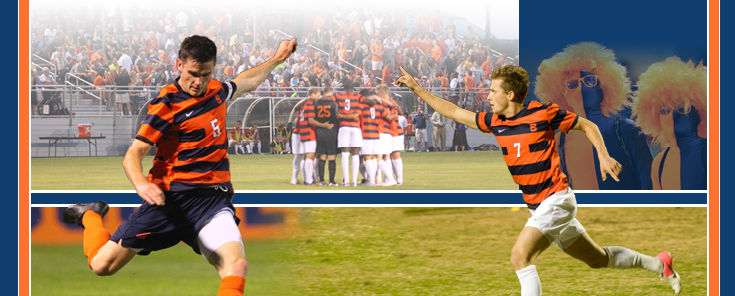 Dan,
  Good morning and I wanted to provide another quick update from the Syracuse men's soccer office. A very big thank you to everyone who came out on Saturday night to cheer on the boys to a fantastic 1-0 win over Virginia at the SU Soccer Stadium. It was truly a special night for the program and our SU fans played a very important role in helping the team secure three big ACC points against a quality opponent.
  The boys showed tremendous character to respond from a rather slow start to drag ourselves back into the game with a collective intensity and energy. We grew into the game and played some excellent soccer against a talented UVA team. Skylar Thomas' header was reward for a sustained period of pressure and we could have gone on to score another goal before the break. We know from the Notre Dame match (and all ACC competition) that there is a very thin line (margin) between winning and losing these hard fought contests. But the boys continued to push forward and I felt that we created the best opportunities throughout the match. We were always going to be under late pressure from a team of the caliber of UVA but the boys limited our opponent to few clear cut chances and we were good value for the three points. A terrific win and the boys deserve a lot of credit for their courage, desire and quality on the night.
  *** But once again we quickly draw a line under this match and our full attention and focus moves to tomorrow night's home game against a skillful Colgate University team who are enjoying a good season. We know the difficulties associated with such a local derby following on immediately after an emotional conference game. Colgate are a very well coached team who are enjoying a good run of results and currently have one of the leading goal scorers in the country leading their line. It should be an exciting match and a quick start to the game will be important tomorrow night with the necessary focus, energy and collective quality displayed by the boys. I hope to see many of our fans out at the SU Soccer Stadium tomorrow night at 7:00 p.m. to support the team in this important regional match-up.
  Well that just about does it for now and we are all back to preparing for tomorrow's game. I look forward to providing another update later this week. For additional updates please go to our Facebook page or follow us on Twitter @SUMensSoccer
  Thank you for your continued support and please keep cheering on the boys!
  Ian McIntyre
  Head Coach
  Men's Soccer
  Syracuse University
Categories: SU Men's Soccer Updates, Atlantic Coast Conference