| | |
| --- | --- |
| Posted on July 7, 2014 at 11:55 AM | |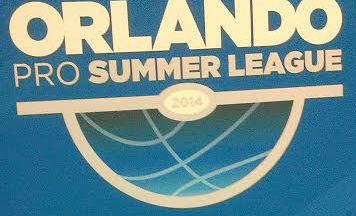 By Dan Tortora
Boston Celtics
  Marcus Smart: The rookie out of Oklahoma State had a slow start to his summer league debut, going scoreless in the first half versus the Miami Heat, but he would help bring the lead over to the Boston Celtics in the third quarter, where he scored six points, and added four points in the fourth quarter to aid in securing a victory. Smart struggled from distance, missing all five of his three-point tries, but showed value by finishing with five rebounds (all defensive), three assists, and one block as well as five steals to a mere one turnover.
  Phil Pressey: The stat sheet does not properly identify what Pressey has meant to the Boston Celtics' summer league team. He does take his own shot at times, but he has been more of a setup man, finishing Boston's first game with seven assists. What you do not see on the stat line is his hustle, such as when he ran from around the top of the key to the right baseline corner to save the ball for the Celtics' offense.
Brooklyn Nets
  Mason Plumlee: In the opening game of his second summer league stint, Plumlee did as he pleased, dictating where he wanted to go and when he wanted to shoot on offense without much trouble in the Brooklyn Nets' contest with the Indiana Pacers, finishing with 23 points in 24 minutes. In the Nets' following game against the Miami Heat, Plumlee had 18 points in 23 minutes. Combining the first two games, Plumlee has made 78% of his attempts ( 14 of 18 ). Plumlee has also minimized his turnovers, committing none in Game 2 after making three in Game 1. Where Plumlee could stand to improve is in his consistency on the boards; the 6'11" forward/center had a mere one rebound in his second game of summer league aftering grabbing seven in the prior contest.
Detroit Pistons
  Kentavious Caldwell-Pope: Well, if Pope is stoppable, it did not happen in the Detroit Pistons' first two games. Playing in 32 minutes in both contests, Pope accumulated 26 points versus the Houston Rockets and 30 against the Memphis Grizzlies. Unafraid to shoot, Pope took 39 attempts through the first two games, making 18 of them, including a respectable 6-for-13 performance from three-point range. He has been comfortable in transition as well as in the half-court offense, scoring from all different areas of the court. On the glass, Pope rose his rebounding output from four to 12 from Game 1 to Game 2, while stealing the ball eight times and turning it over four times in the two contests combined.
  Peyton Siva: The former Louisville Cardinals' point guard and national champion looks more comfortable in his second time around with the Detroit Pistons at summer league. He has shown that he is a double threat in the fast break, able to keep the defense wondering if he will take it or dish it off, both of which he has been successful at. Siva also has shown a nice jump shot early on as well as making the difficult change of body and motion when in the act of shooting. He has reached double-figures in both of the Pistons' opening games, making 50% of his tries in each game, while finding his teammates for no less than six assists in both outings.  
Houston Rockets
  Nick Johnson: The rookie and former Arizona Wildcat showed the force of a forward when he attacked the rim for a slam in traffic in his summer league debut against the Detroit Pistons. He made half of his tries ( 7 for 14 ), five of them being jump shots. But when it comes to the steal to turnover ratio, Johnson can definitely improve from his no steals to three turnovers performance. 
Indiana Pacers
  Donald Sloan: Despite a subpar outing by the Indiana Pacers overall to open their first summer league game, Sloan put together a 21-point showing, but Indiana and Sloan, who had one steal to four turnovers himself, must improve.
Memphis Grizzlies
  Jordan Adams: In his first two contests ever in summer league, Adams recorded 22 versus the Oklahoma City Thunder and 20 against the Detroit Pistons. Adams' scoring has been almost equally distributed with six of his makes from inside the arc and five from long range among the initial two contests. His four steals to no turnovers in the first game was followed by one steal to three turnovers, so his consistency in maximizing his takeaways while minimizing his giveaways can definitely improve.
  Joe Jackson: 14 points in the first two games combined does not adequately respresent Jackson. His ability to run the floor coming off the bench is something to watch. Jackson is fearless attacking the basket and has had good timing of getting the ball up and by the defender at the rim.
  Jarnell Stokes: Going under the basket from the right to left side and dunking the ball over his head is an accurate depiction of Stokes thus far. He has been a force inside the arc, making 11 of his 21 attempts, which were all taken inside the arc, and rising from five rebounds in the Memphis Grizzlies' first game versus the Oklahoma City Thunder to 12 boards against the Detroit Pistons.
  Okaro White: The desire is with this one. White has run all over the court on both offense and defense, looking for the ball, trying to create new offensive opportunities, and catching foes off guard. He provided help defense which resulted in a block that he put so much force in that he fell onto the court afterward. White connected from long range as well as straight on from the foul-line, demonstrating a jump shot that adds a front court player who can both attack the rim as well as find it from farther away. What White's stats do not show are his endurance and stamina; he appears ready to run with anybody. 
Miami Heat
  James Ennis: The man has been putting on a shooting clinic at summer league. Scoring 47 points in 54 minutes over two games, Ennis has proven  to be a trusted asset for the Miami Heat, and, as a result, the Heat have looked to him to make a play when they are down late. Over the first two contests, Ennis made 65% of his tries ( 15 of 23 ), including a 10-for-12 performance in Game 2 versus the Brooklyn Nets; in that game, seven of Ennis' 10 makes came from beyond the arc, where he finished 7-for-8. Where he can improve from these two games are being more consistent in rebounding and continue to keep his turnovers low (went from four to one from Game 1 to Game 2).
  Shabazz Napier: In his first go-around in summer league, Napier has not been shy to take the shot, but can definitely raise his efficiency after going 9-for-27 over the first two games. He had a strong showing in helpers in Game 2 when he recorded seven assists versus the Brooklyn Nets. Where he needs to shape up is in protecting the ball; Napier turned the ball over eight times in Game 1 versus the Boston Celtics and five times against the Nets.
Oklahoma City Thunder
  Perry Jones: He is just simply the definition of clutch. Put him in the corner and feed him the ball and if believe three points will be added from it to the Oklahoma City Thunder, then you are probably correct. The majority of the attempts Jones has taken have been from the outside (10 of his 18 tries). But he needs to improve on his efficiency to become a more consistent force from the outside.
Orlando Magic
  Aaron Gordon: He looks the part, having the physical presence to play professionally in the NBA. Where he needs to improve is on his shot; Gordon missed all four of the long range attempts he took in the opening two games combined, and was 6-for-18 on field goal attempts overall. On the glass, Gordon grabbed five rebounds in Game 1 versus the Philadelphia 76ers and seven against the Houston Rockets. It will be interesting to see if he set himself up inside to provide second-chance opportunities for the Orlando Magic as well as negate second opportunities for opponents coming up.
  Victor Oladipo: Making a noticeably strong debut in this year's summer league, Oladipo ended Game 1 versus the Philadelphia 76ers with 18 points on 6-for-11 shooting to go with six rebounds, three assists, oen steal, and one block. Oladipo can, however, improve in protecting the basketball, he had three turnovers, and producing on the offensive glass, he had no offensive rebounds, against the Sixers.
Philadelphia 76ers
  Nerlens Noel: The question of the health of his body was quieted in his summer league debut, where he attacked the rim and sometimes hit the floor but rose up to a 19-point performance. Attacking the basket from inside the arc, Noel went 6-for-11 while aiding his teammates with three assists. But his four steals were cancelled out by four turnovers and he grabbed a mere two rebounds, one on offense and the other on defense, two areas (steals-to-turnovers and rebounding) that must be improved upon moving forward. The scoring was there, including a 7-for-7 performance from the free throw line for the 6'11" center, but the total package would be even better.
  Casper Ware: He has placed himself on the offensive radar duriing summer league, scoring 16 points in Game 1 versus the Orlando Magic, then 20 points in Game 2 against the Oklahoma City Thunder to go with five assists and five rebounds. But Ware must protect the ball better after having 11 turnovers between the first two games, six versus the Magic and five against the Thunder.
Categories: NBA Summer League