| | |
| --- | --- |
| Posted on October 30, 2013 at 11:45 AM | |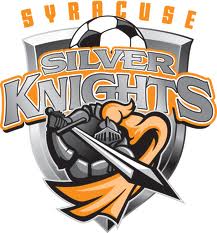 (Info provided by the Syracuse Silver Knights' organization)

SYRACUSE, N.Y. – The Syracuse Silver Knights of the Major Indoor Soccer League (MISL) have announced the signings of forwards Neto, Lawrence J. Papaleo, defenders Darren Toby, Nelson Santana, and Bozidar Jelovac, and goalkeeper Bryan O'Quinn to the roster.
Silver Knights Forward, Elmo Marques Ferriera Neto (Known as simply "NETO"), Brazilian player:
In 2011 Neto joined the Missouri Comets and was awarded Rookie of the Year during his first season. Neto finished his inaugural season with Syracuse tied for second in the league in goals with 34, two of which were three-pointers. Last season, Neto finished tied for third in points with 78.
"I am very happy to return to the Silver Knights," Neto said, "I hope that together with my teammates I can have a great season and help lead the team to the playoffs. We all work hard to bring the fans a lot of joy and victories."
Neto's performance from last season earned him a spot on the All-MISL First Team. Neto has been a vital and great asset to Silver Knights.
"Neto is a very important part of our team," Syracuse coach, Tommy Tanner, said. "He had a great first season in terms of production and we are looking for him to duplicate those efforts this season and help us to make the playoffs."
Silver Knights Defender, Bozidar Jelovac, Serbian player:
Jelovac is born in Belgrade, Serbia, who first began his career in Europe and as a forward. Bozidar has played for FK Smederevo, in the Serbian Superliga (top tier), and in the USL Premier Development League (PDL) for the Vermont Voltage.
He played last season for the Silver Knights, was converted into a defender, and contributed with seven goals and five assists.
"He is a great forward for outdoors but for indoors he is a better defender," Tanner said. "He is big and strong, he is technical and good with the ball; he is everything I want a defender to have. I took him some time last year but I think we can look forward to Bozidar have a breakout year this coming season."
Jelovac also spoke of his trouble to adapt to his new position and the indoor environment, but echoed Tanner's confidence in his ability to improve.
"My goal is to improve every aspect of my game," Jelovac said. "Last year was my first year playing indoor soccer and it was a big learning process. I learnt a lot and now I am coming back with a lot of confidence."
Silver Knights Defender, Darren Toby, Trinidad and Tobago-born player:
Toby was named MVP of the Tobago Futbol league in 2001 before coming to the United States to attend college in 2003. He played college soccer at University of Mobile in 2003, where he was named a NAIA Third-Team All-American, before transferring to the College of Charleston his sophomore year.
A native of Lowlands, Trinidad and Tobago, Toby made his professional debut with the Eagles in April of 2008. In his four seasons with the Eagles, Toby was a key component of the team's success as they claimed their USL Second Division regular season title in 2008. As an Eagle, he was named Second Team All-League Selection in 2010, and was also named to the USL PRO Team of the Week in June 2011. Known for his fierce tactical play and exceptional skill in maintaining possession, Toby will be a huge asset for the Silver Knights.
"He has grown as a player each year, and this year he will be even better than he was," Tanner said. "He is not a very outspoken guy but he is tough, he is mean, and he does everything you need a defender to do."
Silver Knights Defender, Nelson Santana, California-born player:
In 2001-2003, Nelson Santana began his professional career in MLS with the San Jose Earthquakes as a Project 90Nike. From 2004-2005, Santana became a member of the NPASL San Jose Frogs and continued playing outdoor for Palestino in the First Division in Santiago de Chile, Chile from 2006-2008. Santana's indoor debut was in the winter of 2006 with the California Cougars of the MISL Division. He continued playing with the Cougars in the PASL from 2008-2010 and won a championship for the squad during the Cougars 2008-2009 season. While on the Cougars, Santana took on the role of becoming captain for the teams past three seasons.
Before signing with the Silver Knights, Santana became a new member of the US National Futsal Team in 2010-Present. Last year, Santana was a rock for the Silver Knights. He earned first team Defensive All-MISL honors while being elected the team MVP.
"My expectation this season is to make the playoffs and nothing less, I think Syracuse is well over due," Santana said. "I think we are going to be more mature this season with everyone coming back."
He played in all 24 of the team's games last season, scoring 46 points, and was second on the team with 34 blocks. Santana earned all-league honors for the second straight campaign. That season, he led the Silver Knights with 21 assists, tied for fourth-most in the MISL. Santana also contributed 11 goals while playing heavy minutes on the team's top defensive pairing.
"Obviously Nelson is our leader," Tanner said. "He is kind of the face of the team. He is very outspoken on the field … we need Nelson to have a great year for us to have a great season."
Silver Knights Goalkeeper, Bryan O'Quinn, Massachusetts-born player:
O'Quinn graduated from the University of Massachusetts in 2002 where he was a four-year goalkeeper for the Minutemen playing in 51 games, making 200 saves and holding 13 shutouts. During his collegiate career, O'Quinn became a part of the 2001 All-Atlantic 10 Tournament Team selection after helping the squad win their first 10 Conference Tournament Championships and earned UMass a NCAA Tournament bid. In 2005, O'Quinn held the school record for career shutouts (16).
O'Quinn then signed with the Western Mass' Pioneers in the USL Division after college. With the Pioneers, O'Quinn was named the USL's Player of the Week in July of 2005. O'Quinn played in eight games for the Silver Knights in 2011/2012, boasting of an incredible .759 save percentage, highest among all MISL goalkeepers with at least five games played.
After some injury issues, O'Quinn is raring to go for the coming season and particularly insisted on thanking the team management for their continued faith and belief in his abilities.
"I have had a long summer recovering from injury so it means a lot to me that the team has put their trust and faith in me again for this season," O'Quinn said. "I am truly honored that the Silver Knights have welcomed me back.  The ownership and coaching on this team has been fantastic to work for and I am excited to suit up for them again."
In terms of the coming season, O'Quinn also adds:
"We need to put a better and more consistent product on the field this season," O'Quinn said.  "We have a number of veteran players returning and we need to look, act, and prepare in different and better ways than we have done in the past to ensure that we obtain different and better results.  Our internal goal is obvious: to make the playoffs and compete for a title, but nothing in this league is given, so we will have to earn it through hard work, focus, and discipline. Thus aside from my participation on the field I will pride myself this year in doing my best to help guide and lead our team in this direction."
Silver Knights Forward, Lawrence J. Papaleo, Syracuse-born player:
Papaleo will make his return from injury for the Silver Knights this season. Papaleo played locally at CBA, and SU. He also played professionally in Poland before returning to Syracuse. Papaleo is a 6'3'' target forward, boasting of great power and clinical finishing ability.
"LJ scored a lot of goals in training and our scrimmages," Tanner said. "We look for LJ to score goals for us. That is what he does best, and so we are bringing him on to score goals."
Papaleo is a local product, son of Joe Papaleo, a former MISL All-star and All-American at Syracuse University. His father, Joe, is also in the Syracuse Sports Hall of Fame.
"I am looking forward to playing for the Silver Knights," Papaleo said. "I am very proud to play for my hometown, in front of my family and friends. I expect to be part of some exciting soccer. The Silver Knights are very entertaining to watch and provide a fun experience for fans."
Categories: Syracuse Silver Knights